How Much Is It for the Mini Train Ride for Amusement Parks?
The amusement park train ride is an indispensable existence in the industry of entertainment equipment. Both children and adults love this ride very much. Different from other theme park entertainment rides, the train ride is not only a way of entertainment, but also a means of transportation. Among various kinds of amusement park trains, small train rides for sale are more suitable for kids. Currently, you can easily find small trains for sale in amusement parks, theme parks, carnivals, fairs, family fun centers, recreation centers, malls and supermarkets. Children can fully enjoy the fun brought by the small train games. For the amusement ride owners, the small train set business is a great choice to make profits.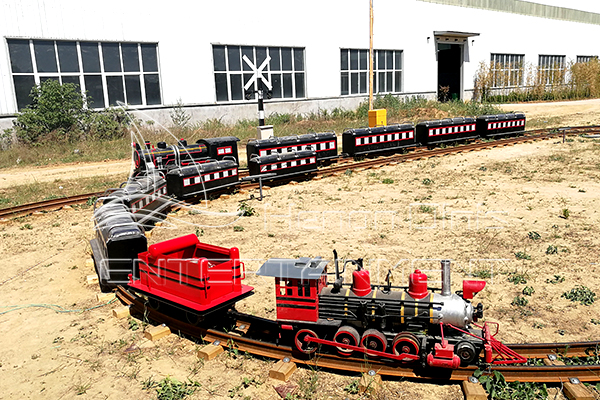 Where can you buy small train equipment for park rides?
Where to buy a mini stream train that will carry people? Dinis Amusement Machinery Co., Ltd. is one of the leading manufacturers of small train rides for parks in China. As a professional manufacturer of small rideable trains for sale, we company produces and offers small amusement trains in various sizes. Over the past years, Dinis has exported a number of new amusements rides trains small rides to Europe, Africa, North American, South American, South-East Asia and Middle Asia and almost all over the world. The high-quality small riding trains have won the recognition of the majority of customers.
For specific requirements of different customers, Dinis can design and manufacture small trains for sale for city parks, carnivals, shopping malls, supermarkets and backyards. For the theme park train rides for sale, the size, color, seat, design, motor and other details all are customizable. The kiddy rides small amusement park trains in Dinis are attractive and fascinating to children. Thus, as a company that sells small trains children can ride, Dinis is worthy of your consideration for the purchase of small size riding trains for sale.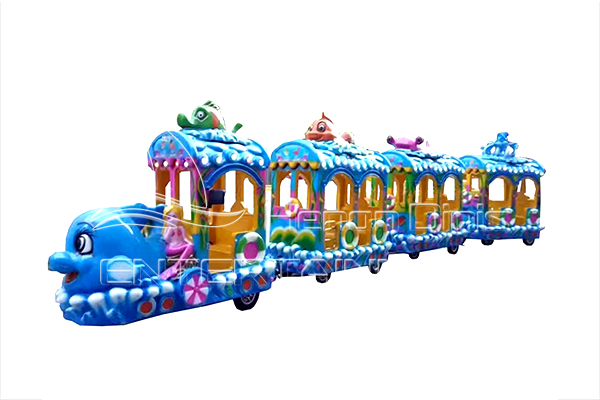 Classification of small train rides for sale in Dinis
The track train rides for sale mean the train rides run along the specific rails. Compared with the trackless train rides, the amusement train rides with tracks require meters of tracks and a fixed site. Thus, due to the fees of the steel rail, the costs of small ride commercial train ride are more. The equipment is not only suitable for department stores, shopping malls and supermarkets, buy also appropriate for parks, stadiums,amusement parks, squares and outdoor arenas. In Dinis plant, there are ocean electric track train rides, elephant train rides with tracks, Dinis mini track train rides for sale, and other models small amusement park trains with tracks.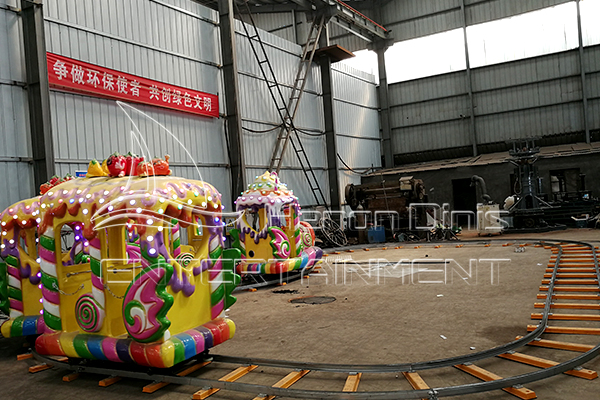 The trackless trains are the train equipment runs along with the cement road and asphalt road. The small electric trains you can ride on with no track could run faster and more freely. Without the tracks, the theme park trains could have low manufacturing costs and short manufacturing time. Compared with the small ride on train with tracks, the trackless train rides are always in large size. Therefore, the rides are more suitable for squares, scenic spots and other large-scale outdoor activities. In Dinis, the locomotive trackless train rides and antique trackless train fun rides are available to choose. Most of the time, the trackless train rides could also provide convenient transportation for players as an amusement tool.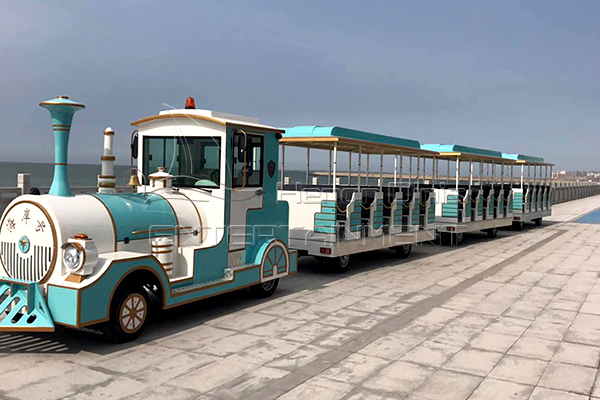 Hot sale small kids trains for amusement parks for sale in Dinis plant
In Dinis company, there are various kinds of small train rides for a park, theme park, shopping malls and family fun centers. The following are the most popular kinds of small amusement park train rides for sale in our company.
Small passenger backyard trains for sale for both children and parents at home
The amusement chasing ride in Dinis company is a classic track amusement train rides for sale. Similar to other amusement park rides, the equipment has colorful lights and exquisite design. The operation of the ride is easy and stable. Different from the traditional train rides, the mini backyard ride consists of several cars. As a kind of track entertainment equipment, each car runs on the scheduled track and chase the target. During the process, players can fully experience the intense atmosphere. Thus, the equipment is exciting and thrilling for most children. The small scale trains are mobile rides for indoor backyard and outdoor space. Moreover, the parent-child entertainment ride can help to narrow the distance between parents and children.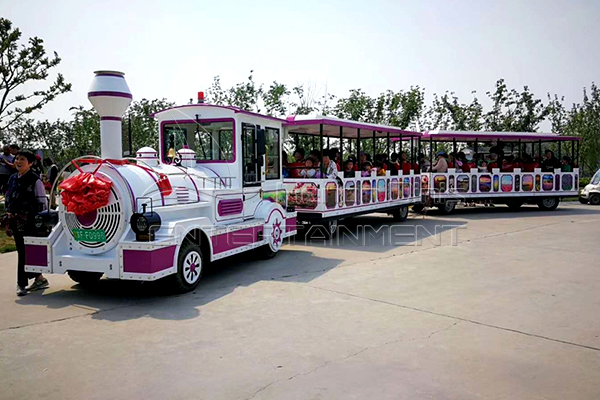 Mini Christmas track train kiddie ride for sale in Dinis for festivals
The Christmas themed track train rides are the most representative type of small steam engine train rides for sale. Especially during the Christmas period, not only children, but also adults love this equipment with strong festival atmosphere. The Santa Clause and his reindeer Christmas small steam trains for sale have characteristic cartoon image, beautiful music and colorful lights. On the basis of the exquisite design, the equipment could quickly draw the eyes of children. Currently, this kind of festival train carnival rides are very popular in any public areas, squares, shopping malls, supermarkets, stores and even schools.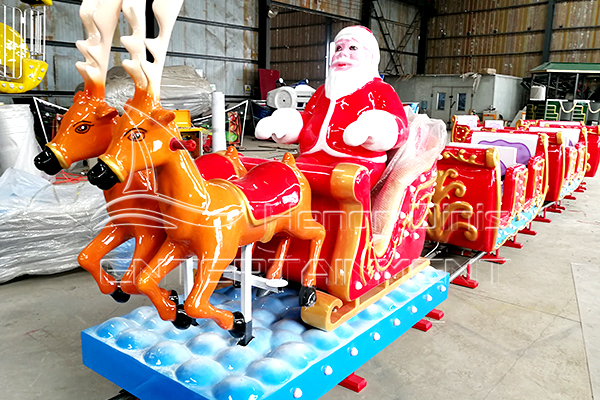 Dinis hot sale mini electric train rides for shopping malls
In large shopping malls, the small ridable rides are much more common now. In shopping malls, the ridable train rides could not merely entertain children, but also satisfy the transportation requirements of the passengers. With the equipment, people can visit the whole shopping mall easily and take a rest when they are fatigue. On the other hand, the electric train ride can also be a tourist attraction and sightseeing tool. But due to the small space in malls, the specifications of electric train rides have specific requirements. If you intend to buy a mini train ride for sale, you shall first measure the specific dimension of the space that you can use.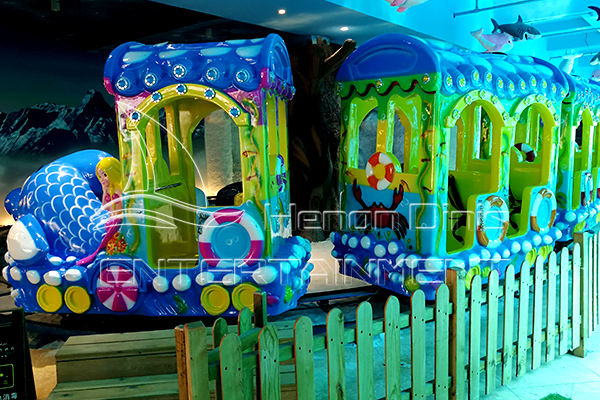 Of course, there are more types of miniature steam trains rides in Dinis for you to choose. If you have you own design drawings on the rideable miniature train for sale, we can customize the products and provide appropriate suggestions for you.
Are you looking for small outdoor trains that you can ride?
If you have the intention to buy outdoor amusement train rides, the following Q&A are the selection suggestions for you.
Q: How to choose attractive mini train rides for outdoor applications?
A: Although your target is miniature train rides, you may use the equipment in outdoor parks, carnivals or funfairs.
Q: Track or trackless which one is better?
A: The mini tourist trackless train ride with a locomotive and several cabins is suitable for outdoor space.
Q: How many cabins are suitable for a standard outdoor train equipment?
A: Generally, an amusement train ride has three cabins. The number of cabins can increase or decrease according to customers' demands.
Q: From the driving power and working performance, which kind of miniature train models for sale can you choose?
A: There are two drive modes, diesel engine mode and electric battery mode. You can choose the most appropriate type of train rides according to your actual situations.
Q: What theme of mini train will be your best choice?
A: The outdoor vintage train rides are full of entertainment. As a means of transportation, the small outdoor train rides are especially popular in parks, carnivals and fairs, playgrounds, fairgrounds and other public places.
Q: How to get customized train rides for your small attractions business?
A: If you have had the specific outdoor venue to place the small ride commercial train ride for sale, you can directly provide the space dimensions and we company will recommend or customize the optimal outdoor equipment product according to the actual conditions.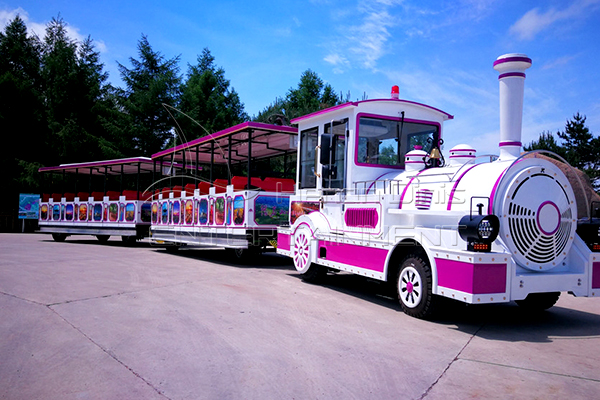 Features of Dinis small carnival train rides for sale
Due to the following characteristics, Dinis mini amusement train equipment is a good selection for you to choose small train games!
As a professional supplier of small amusement park trains for sale, Dinis produces various kinds of small scale rides with different sizes and themes. Moreover, even if you have any other demands in size, seat, color, theme and even configuration, our company can customize the product as you required.
The park attraction small train rides in Dinis are equipped with beautiful decoration, beautiful music and LED lights. Besides, if you have requirements, the public address system and safety belts are also available in your products.
High-quality manufacturing materials
The material of small rideable trains on road surface is fiberglass reinforced plastic. Then the material of train's track is galvanized steel. With the quality materials, the miniature rideable steam trains for sale can be durable and anti-corruption.
Dinis company has its own factory and departments. Thus, our company can build mini electric train rides for sale in our own factory. Without the agent fees, Dinis can offer high-quality electric mini train sets rides at low prices.
The mini electric train for sale equipment is easy to operate and maintain. Thus, you can greatly reduce the costs of equipment maintenance and replacement.
If you have the park scale and project budget, our engineers will design the drawings and produce the suitable products in accordance with your requirements. Besides, Dinis can also provide various after-sales services, such as maintenance, etc. Whenever you have problems, we company will help you to solve them.
Promising profitable potentials
The rideable mini trains with tracks or without tracks enjoy great popularity in modern society. Thus, the existence of a mini train ride is a great addition to your amusement parks. That will bring great traffic and returns to your business.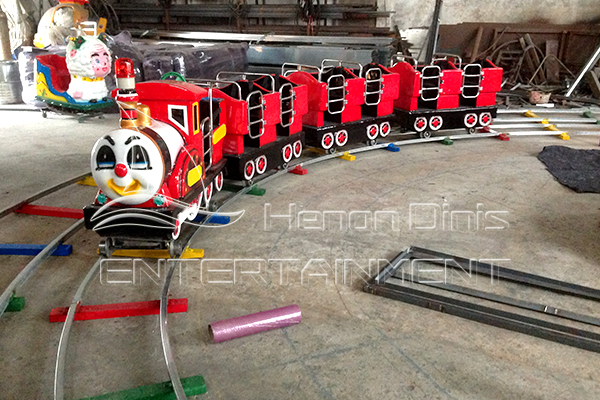 How much does it cost to buy a small riding train in Dinis company?
In the market, there are many manufacturers of small steam engine trains for riding in parks. The product prices are so different that makes many buyers feel puzzled. Many factors will affect the prices of small ride on steam trains for sale.
As the main cost source of entertainment equipment, different materials will cause great difference on costs. The materials of train shell and body are respectively fiberglass reinforced plastic and steel frame. Then, the quality of glass fiber reinforced plastic mainly depends on the thickness, which determines the durability. With the long-term raw material cooperative partners, Dinis has more price advantages than some small manufacturers.
All the small steam trains for sale have the basic configuration, including 3 cabin, audio system, LED lights, etc. Besides, if you want to have other additional facilities or different designs, the prices will have the corresponding changes.
Each step in the production requires high technology. The fiberglass reinforced plastic surface need to be carefully polished. The next step is painting. For the painting, car paint is more expensive. In function, this kind of painting won't fade for a long time. Besides, the paint process will easily show up in front of people. If the paint quality is poor and craftsmanship is rough, the product effect will not be good.
After-sale service is also an important part in the purchase process. Generally, the large manufacturers that can provide meticulous after-sales services pay attention to the buyers' interests. Compared with other small manufacturers, the large manufacturers could reach the high performance-price ratio of products.
Do you have any interest in amusement small trains for any purpose? Dinis company is waiting for you inquiry.