Benefits of Pirate Ship Amusement Rides
Pirate ship amusement ride is a type of swing amusement rides that swings back and forth around a horizontal axis. It also has other names, Viking ship, pirate boat and swinging ship. When the pirate ship equipment starts, it begins to swing slowly at first and then accelerates. Riders on the cabins will swing along with the pirate boat. They will feel like surfing at a sea with big waves. Sometime, the equipment rushes to peak, and falls into the bottom. Thus, it is quite thrilling and challenging for all the passengers. Many amusement park owners intend to purchase the extreme ride to attract traffic.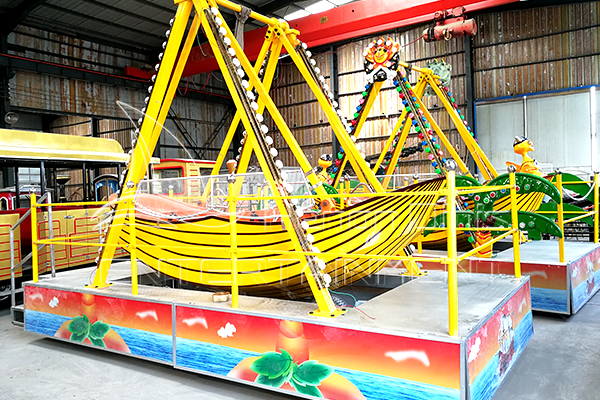 Who sells pirate ship amusement rides?
Dinis specializes in the design, manufacture and sales of theme park rides. Its products have won the critical acclaim of customers at home and abroad. Pirate ship amusement ride is one of the featured outdoor products in Dinis. The ride in Dinis has the following features:
Dinis adopts glass fiber reinforced plastic and steel frames for materials. The performance of materials is corrosion resistance and thermal insulation. The high-quality materials could guarantee the product quality.
In painting, the pirate ship amusement ride manufacturer applies high-temperature electromagnetic painting technology. The factory bakes paints under dust-free environment. In this way, paintings can be bright and lustrous for a long time.
There are seat belts in each boat, so as to ensure the safety of each passenger.
In appearance, the pirate ship produced in Dinis has colorful LED lights and beautiful appearance.
Dinis's pirate ship has four-channel car audio system.
Dinis could provide thoughtful services before and after selling the pirate ship product. Besides, we are responsible for the follow-up shipment, installation and maintenance.
With a factory, Dinis sells pirate ship amusement ride at cheap prices directly.
Therefore, Dinis is a reliable pirate boat theme park ride manufacturer through overall consideration. You can easily buy a high-quality pirate ship from Dinis.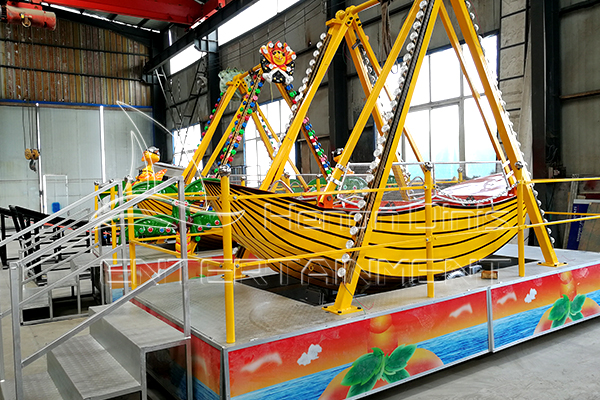 Three popular pirate ship amusement rides for sale in Dinis
There are different kinds of pirate boat park rides for sale in Dinis. The following three pirate ship amusement rides are most common in the market.
Dragon pirate ship theme park rides for sale
Dragon pirate ship theme park ride is a classic ride among various pirate ship rides. Its appearance is dragon. The dragon pirate ship in Dinis has colorful LED lights. Passengers swinging along with the equipment will just feel like taking a ship on a rough sea. It is exciting, thrilling and entertaining.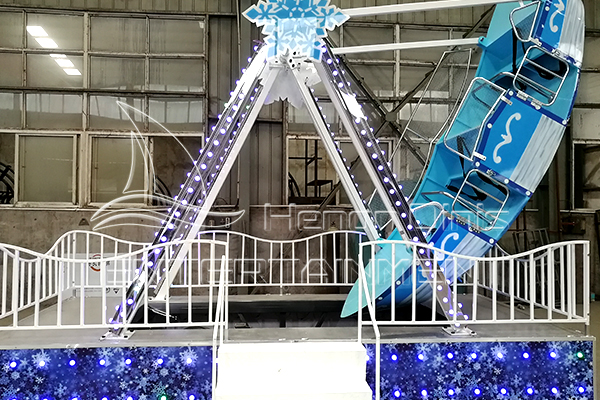 Viking ship amusement rides for sale
Viking ship ride is a swing amusement equipment. Obviously, there is the "Viking" word on the ship. Dinis intimates the shape of ancient Viking ship. The ride subjects riders to various levels of angular momentum. Besides, the ride is popular with people who have a vision for the Vikings.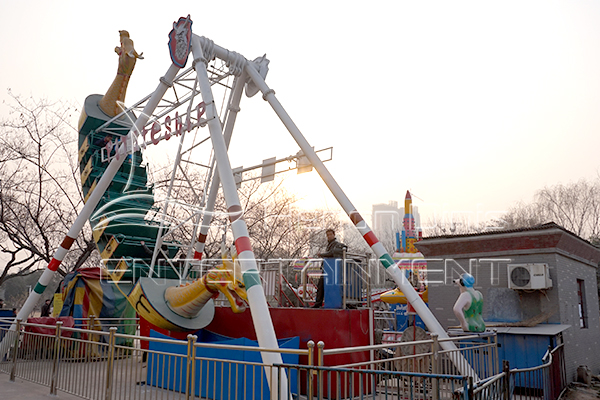 Kids pirate ship amusement park rides for sale
Kids pirate ship is a swing playground equipment for children. Not fixed on a certain site, it is a mobile equipment. And the kiddie pirate boat consists of food grade engineering plastic rotational modelling. It is anti-static and anti-UV. The ride is suitable not only for amusement parks and theme parks, but also for schools, gardens, property districts, supermarkets and other indoor and outdoor places for kids.Benefits of pirate ship fair rides to your amusement park.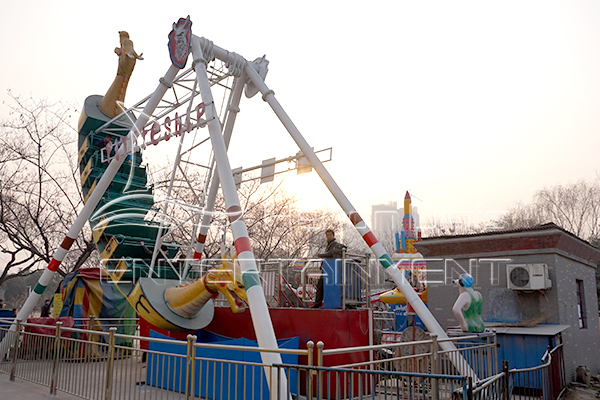 Enrich and upgrade your amusement park
Young people always come to amusement parks for extreme entertainment rides. Undoubtedly, pirate ship is one of the representative of extreme theme park rides. Thus, pirate ship is essential to enrich the funfair rides in an amusement park. Besides, the existence of pirate boat could also upgrade the level of your amusement park.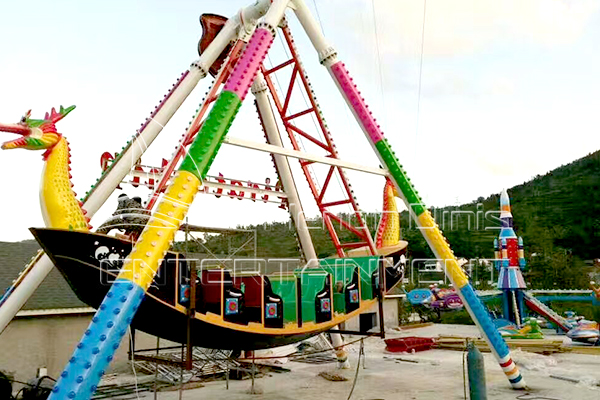 Attract the players at different ages
Generally, riders are likely to have thrilling feelings from the rides. But some rides are so scary that many people can't accept them. Pirate ship is appropriate for players at all ages. Young people could enjoy the surfing experience from the ride. kids are no exception. Kids pirate ship is specially for children. Children are likely to take the kids entertainment ride over and over again. Thus, you don't have to worry about riders only seeking to ride once in your amusement park. Besides, pirate ship could greatly help to attract players at different ages.
Make great profits at low costs
The pirate ship has great market potential. You can quickly repute the costs of purchasing a pirate ship. And the ride is extremely safe and durable. Therefore, purchasing a swinging ship is a long-term investment. Besides, you don't need to spend lots of time and costs in the maintenance.
Thus, the pirate ship ride is a valuable addition to your theme park. You can invest in the ride without any worry.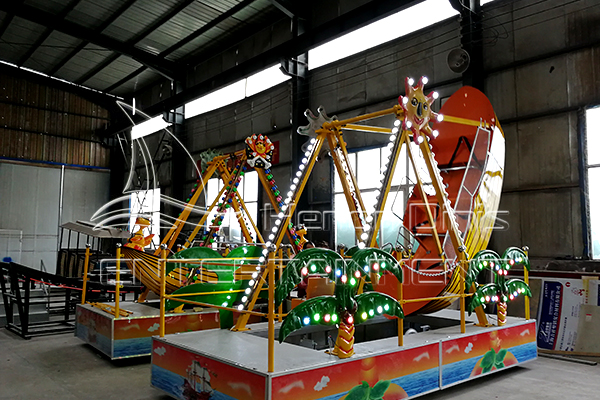 How does pirate ship work?
The equipment contains the passenger cabin, suspension system, transmission system, support arm, platform, operation system and other parts. The motor rotation drives the tire through the belt and then the belt rotates. Meanwhile, under the function of the electric hydraulic thruster, the belt rises and contacts with the friction track at the bottom of the cabin. Due to the force of friction, the suspension point of the cabin will swing freely. After the friction drive for 2-3 times, the cabin could reach the designed swing angle. Physically, what drives pirate ship is centrifugal force. At first, it swings slowly at lower height. Then the equipment accelerates in speed and swings higher. Finally, the equipment will challenge the limits of the psychological capacity of passengers.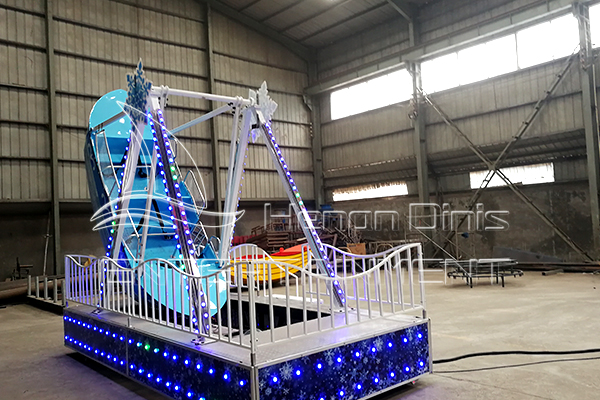 History of pirate ship amusement rides
Charles Albert Marshall of Tulsa, Oklahoma invented the first pirate ship amusement ride between 1893 and 1897. The ocean wave appeared firstly in 1897. Then it gradually developed into pirate ship amusement ride. Of course, with the development of the times, the production process and technology have also made great progress. Most of professional extreme pirate ship park ride suppliers can manufacture high-quality theme park pirate ship equipment for sale. Nowadays, the ride is popular in amusement parks, theme parks, amusement playgrounds, fairgrounds, shopping malls, parks, carnivals and fairs.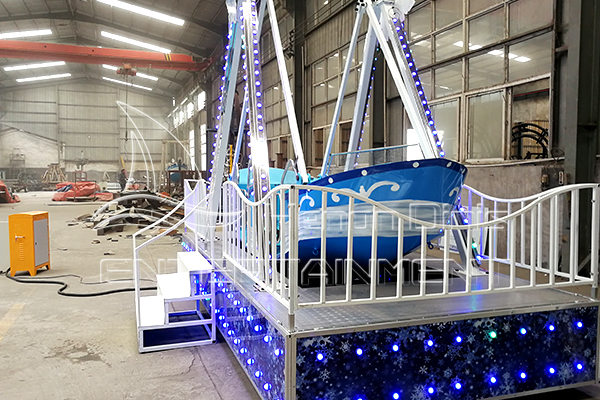 Safety tips for riding on pirate ship amusement rides
The most important thing to have fun in an amusement park is safety. Unfortunately, a majority of injuries are because the guests didn't follow the guidelines or didn't satisfy the required health conditions. The following are safety tips for riding on pirate boat.
Observe the safety guidelines and standards posted on the pirate ship.
Follow the verbal instructions given by the ride operator.
Obey listed age, height and weight requirements.
Never force anyone especially children to take the ride that they don't want.
Riders with heart disease and high blood pressure shall not take the ride.
If you see any unsafe behavior on the ride, report it to the supervisor or operator immediately.
Remain seated in the ride until it stops completely.
In a word, pirate ship carnival ride is an indispensable existence in your amusement park. It can generate great profits for you.
What are you still waiting for? Contact us for more information. We expect your arrival.