Buy Qualified Three-dimensional Human Gyroscope for Sale from Dinis
Human gyroscope ride is a new park ride in amusement parks, theme parks, parks, gyms, family fun centers, schools and playgrounds recently. But many people are not quite familiar with the human gyroscope for sale. In addition, many investors are curious about this exciting but a little mysterious amusement equipment.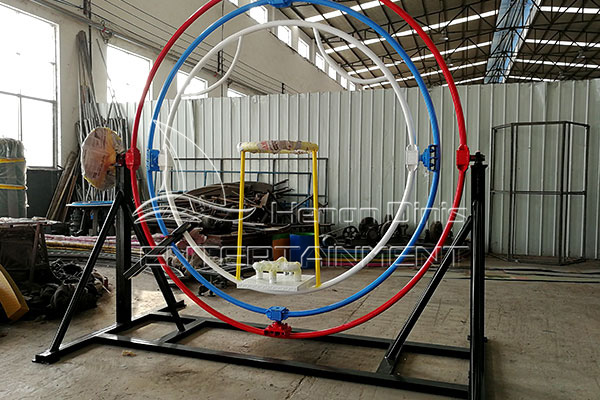 What is human gyroscope?
The human gyroscope amusements for sale is new kind of amusement park rides for sale. Its precursor is the gyroscope simulator as a pilot and astronaut training tool. Thus, people also call it gyro exercise machine or spinning machine in gyms, as well as Arbitron ride. It first appeared in the market at the end of 2009. As time goes by, human gyro ride has gradually become a new but popular funfair machines for sale.
The human gyro ride is an exciting amusement park ride. You can easily find the feature from its appearance. On the human gyroscope ride, players can rotate 360 degree arbitrarily. The speed sometimes is fast, sometimes is slow. Thus, players can fully appreciate the stimulation of the three-dimensional space rotation. It is also a fun sports competition and leisure entertainment way. During the process, players can relax their body muscles and get ability training.
The human gyroscope price is relatively low among various theme park rides for sale. The buyers can install and use the human gyroscope ride for sale in squares, parks, playgrounds, schools, etc. Due to its entertaining feature, it can attract a large number of customers. Thus, the human gyroscope amusements for sale has great market prospect.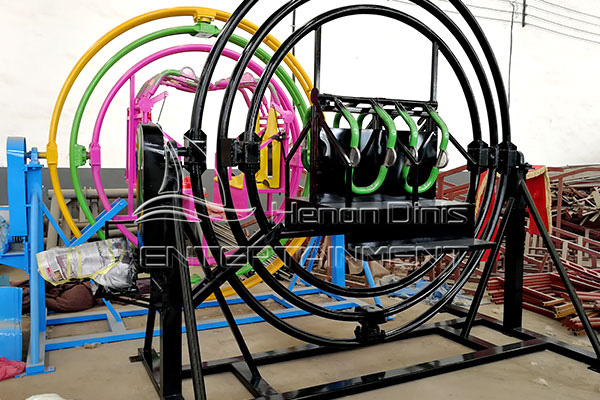 How does a human gyroscope work?
The amusement mobile human gyroscope is a kinds of rotating new amusement rides for sale. There is generally a human gyroscope electric controller. Triggered by pendulum ride, the motion track is also in the form of a pendulum. There is a disc in the bottom. When the big arm is swinging, the pendulum swings. The disc under the arm will rotate. In this way, players can have a a strong centrifugal feeling. During the operation process of the equipment, players can feel the weight loss for several seconds. Thus, they will feel like being in space as an astronaut.
Standard configuration of human gyroscope ride
In the market, a gyro small ride always has pressure bar, seat belt, foot strap, hard seat, music, remote control. Compared with other children's theme park rides for sale, the configuration is relatively simple. Then for the seats, 2, 4, 6 seats are available. For the luxury type, there is aluminum tread plates in the outer periphery of the cockpit. Besides, some of them have light decorations.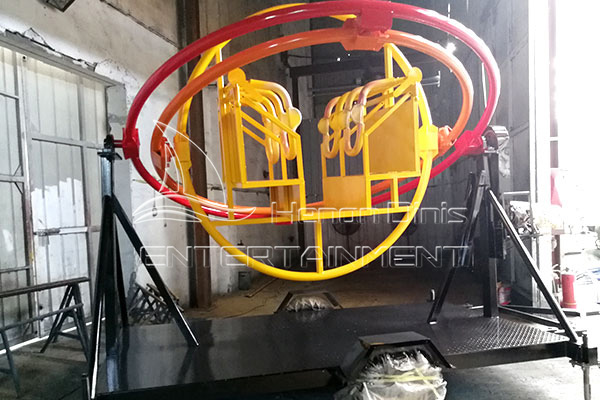 Features of human gyroscope for sale in the market
The gyro equipment has the following characteristics. The product is a quite popular equipment with teenagers.
Small area coverage
Easy operation and maintenance
Thrilling entertainment way
Great popularity
High management benefits
Where to get a human gyroscope?
Zhengzhou Dinis Amusement Machinery Co., Ltd. is one of the greatest human gyroscope manufacturers in China. It has adhered to the tenet "Quality First, Customer Supreme". The company that builds human gyroscope has constructed a complete system for gyro extreme ride for sale from human gyroscope design, development, assembly and after-sales services. There are various specifications of human gyroscope for sale in Dinis factory. Currently, the amusement park human gyroscope rides with high quality for sale have received the acclaim of the majority of users.
Thus, choose human gyroscope exercise machine in Dinis to buy!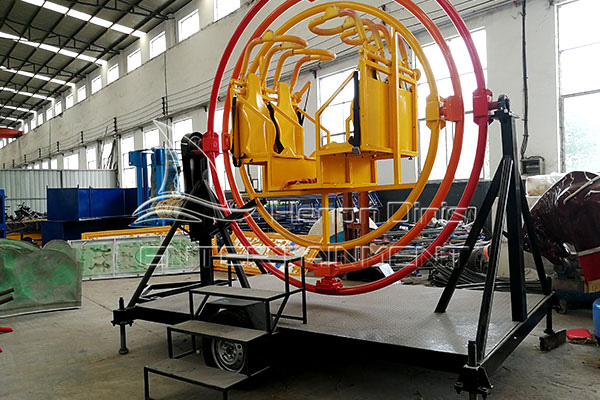 Types of funfair human gyroscope for sale in Dinis
There are various types of electronic gyroscope for sale in the human gyroscope supplier, Dinis. Some are large gyroscope for sale, while some are small gyroscope rides. The purchasers can choose the sizes and appearances of human gyroscope rides for sale.
Singer person human gyroscope for home in Dinis
The single person human gyroscope for sale can be indoor amusement park ride. It covers small area, so you can place one game equipment human gyroscope ride in your backyard. Not only children but also adults can use the equipment. Teenagers can not only have fun from the exciting experience, but also improve their coordination ability and courage.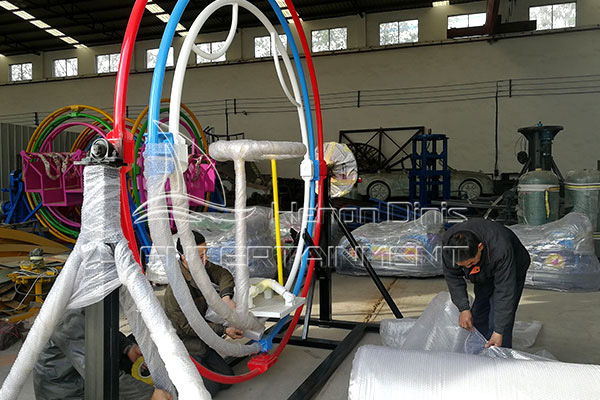 Amusement park human gyroscope with several seats for sale in Dinis
There are 2-seat human gyroscope ride for sale, human gyroscope 4 seats, 6-seat large gyroscope for sale in Dinis. You can buy human gyroscope rides from Dinis factory. As a fashion outdoor playground equipment, it looks like Arbitron or trimeter with single or double rings. In Dinis, we can customize the number of seats and the appearance color in accordance with your requirements. Generally, the giant gyroscope rides are common in amusement parks, playgrounds, gyms, schools, etc.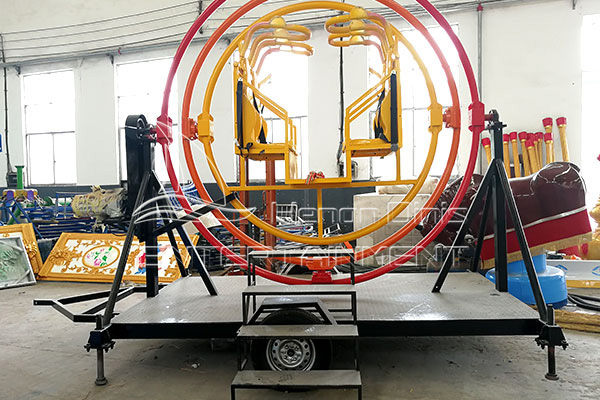 Amusement human gyroscope with trailer for sale in Dinis
As a human gyroscope parts supplier, Dinis sells the human gyroscope with trailer. With the trailer, human gyroscope ride is easy to transport. Thus, it is a mobile amusement ride. The buyers can use the equipment in carnivals and fairs. Generally, the operators can make great money during festivals. Thus, the amusement park human gyro with trailer is a good investment.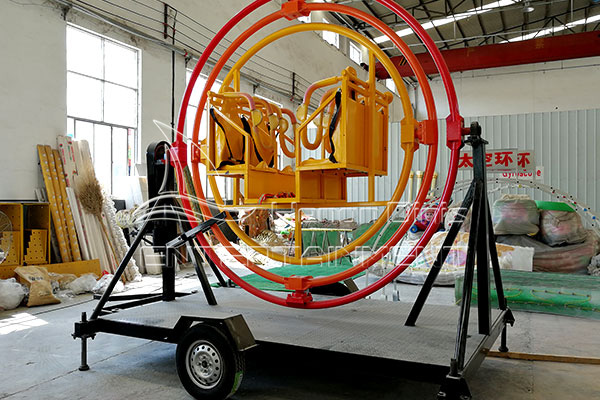 Why shall you buy human gyroscope thrill rides from Dinis factory?
Dinis has exported various kinds of human gyroscope with chairs to the whole world. All the customers are very satisfactory for our products and services. Due to the following aspects, you can purchase a human gyroscope from Dinis without worry.
High-quality materials. Dinis adopts quality fiberglass reinforced plastic materials to produce human gyroscope for sale. The materials are environmental, safe, corrosion-resistant and stable.
Factory direct sale. In Dinis, there are professional designers and workers for the production of human gyroscope thrill rides. The company can customize and produce the suitable human gyro ride according to the specific requirements of customers.
Reliable safety protection. There is special safety belt for the human gyroscope riders. Thus, riders can fully enjoy the fun brought by exciting entertainment ride.
Price advantage. With a factory, Dinis can directly sell amusement park gyro ride at preferential prices.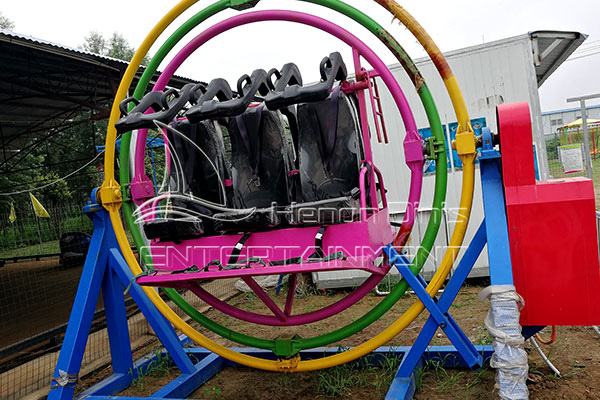 How to buy a human gyroscope for sale?
How to buy a human gyroscope? For the purchase of human gyroscope for sale, there are three elements that investors shall consider before investing in three-dimensional gyroscopic games.
Location. In terms of location, the visitor flow rate, surrounding environment, peer competition all are important. Combined with the local consumption level, you can place the human gyroscope in children's playgrounds, residential area, communities, shopping centers, shopping malls or other densely populated places.
Fund. You shall consider your budgets. The funds include the funds at earlier stage and later stage.
Safety. It is the most serious issue. In order to guarantee the players' safety, you shall buy qualified three-dimensional human gyro for sale. In the daily operation, the relevant maintenance and require inspection are equally important.
Do you have human gyroscope plans for your amusement parks or home use? Dinis amusement ride manufacturer can provide the human gyroscope for sale with high quality. If you have any interests, inquiry us now!