Features of Amusement Park Swing Rides in Dinis
Amusement park swing rides are thrilling amusement park rides. The swing amusement ride moves up and down around one fixed center pole. In amusement parks, theme parks and playgrounds, the swing amusement ride can attract both adults and children. Players all love the unique design and exciting entertainment way. Thus, the amusement park swing ride is one of the most popular amusement park equipment that you can frequently find.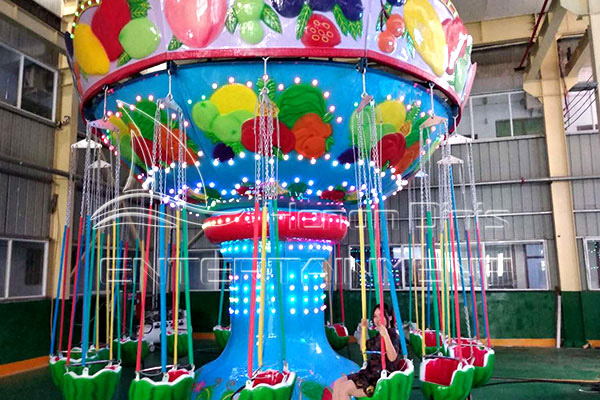 Composition of amusement park swing ride
The amusement park swing ride can not only turn around a circle, but also each swing ride seat can go ups and downs. The ride is swing carousel. It is one of swing amusement rides. The amusement swing ride consists of handle rocker mechanism, rotary table, rotating shape, electric drive machine, hydraulic drive system and so on.
Classification of amusement park swing ride
For swing amusement rides, there are different swing rides for kids and adults.
The kiddie amusement swing rides always have beautiful music, colorful lights and interesting appearance to draw children's attention. The swing rides for kids are thrilling but not scary. Kids can enjoy the fun experience and romantic feelings brought by carnival swing rides.
On the contrary, the fairground swing rides for adults are comparatively scary. Young people are always eager to pursue something exciting and new. Among various swing fun rides, the pendulum swing ride is a good choice for them.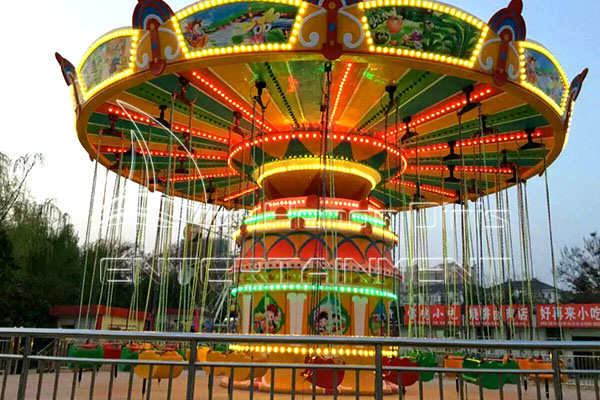 Why Dinis can be your reliable amusement park swing rides supplier?
The funfair swing ride has become one of the most popular amusement rides in amusement parks and theme parks. An increasing number of people want to buy amusement swing rides for investment. They face the same problem, "where to buy amusement park swing ride". Dinis is one of the top swing ride manufacturers in the world. Dinis has the ability to provide high-quality swing rides. Due to the following aspects, Dinis is a reliable swing amusement ride builder.
Adequate certificate
Through the operation and development for several years, Dinis has developed into a powerful amusement equipment manufacturer. Dinis has passed BV, ISO 9001 and CE certifications. The certification is the prerequisite of the production and operation of amusement park rides. It is also the first step to guarantee the quality.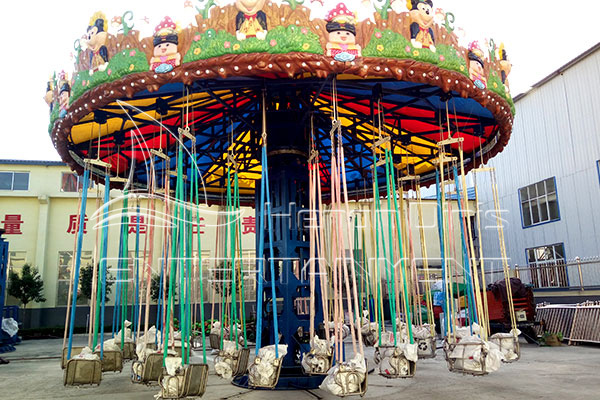 Skillful craftsmanship
Dinis adopts advanced technology to produce amusement swing rides in factory. There are many professional designers and welders. With rich experience and skillful craftsmanship, they can further guarantee the quality of amusement swing rides to a great extent.
Factory price
With a factory, Dinis can build carnival swing rides by itself without the help of any third party. Thus, Dinis directly sells swing amusement rides at factory prices. If you buy swing ride products from Dinis, you don't need to negotiate with the manufacturer on the price once and once again. Therefore, Dinis has unrivaled advantage in price.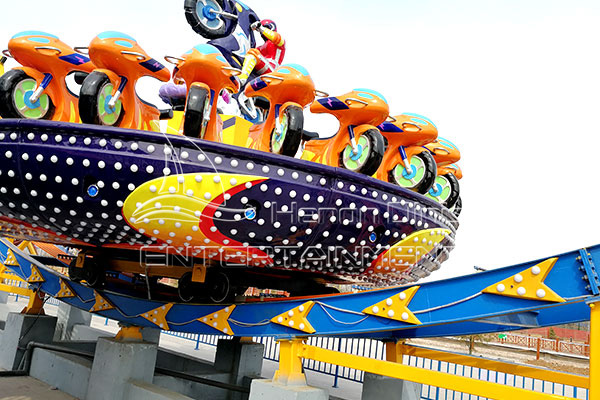 Considerate services
In the principle of "Quality First, Customer Supreme", Dinis devotes itself to providing superior and quality amusement park equipment for customers at home and abroad. Dinis can provide not only considerate before-sales service, but also thoughtful after-sales services. Whenever you have inquiry, Dinis will reply you as soon as possible. Besides, Dinis can provide shipment, installment and maintenance services. If you buy amusement swing rides from Dinis, you will have no additional worries.
Amusement park swing rides for sale in Dinis
Dinis has several kinds of swing amusement rides for you to choose.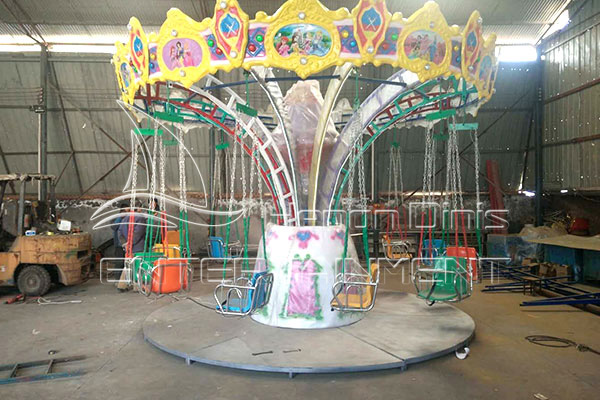 Swing carousel ride for sale
Swing carousel ride is one of the outdoor popular amusement park swing rides. People also call other names, wave swinger, yo-yo and chair-o-planes. It looks like a big umbrella. Under it, there are many beautiful and exquisite seats. When the big umbrella swings, these chairs will fly in the high sky. It is a thrill ride but not thrilling. Both adults and children can get a lot of fun from the ride. Thus, it is suitable for a whole family.
Currently, you can find swing carousel rides not only in amusement parks and theme parks, but also in supermarkets, preliminary schools, shopping malls and playgrounds.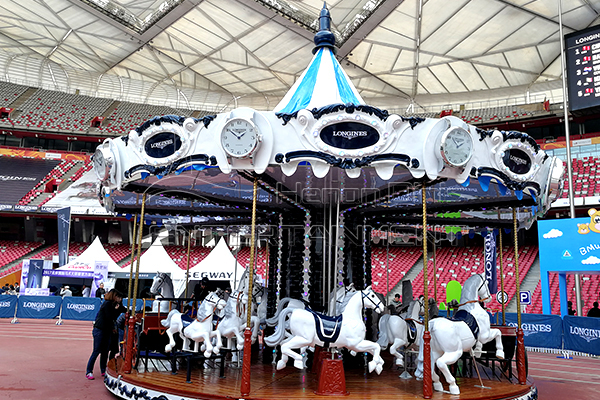 Pendulum swing ride for sale
Pendulum swing ride is an extreme swing ride. There are giant and mini rides of pendulum products in Dinis. For pendulum ride, its operation relies on the air compressor. The air compressor works firstly and the air will flow to the cylinder. Then it pushes the hammer to swing. When the equipment starts, it can rotate 360 degrees along the horizontal axis. On the ride, people can't help but laugh and scream. They will fully enjoy the dazzling and thrilling feelings.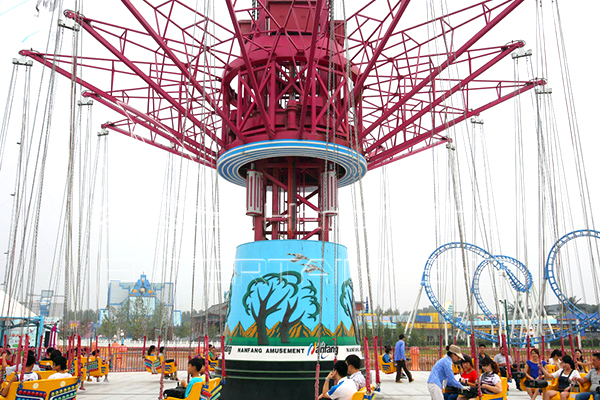 Happy swing ride for sale
Happy swing ride is a new carnival ride in Dinis. Its appearance is similar to the simple swing that children always take at home or parks. Similarly, it has simple mode of operation, beautiful appearance, bright colors and great music. Thus, it can greatly attract people. On the ride, riders will feel like flying in the sky. To sum up, this fresh experience could easily make people fall in love with the ride.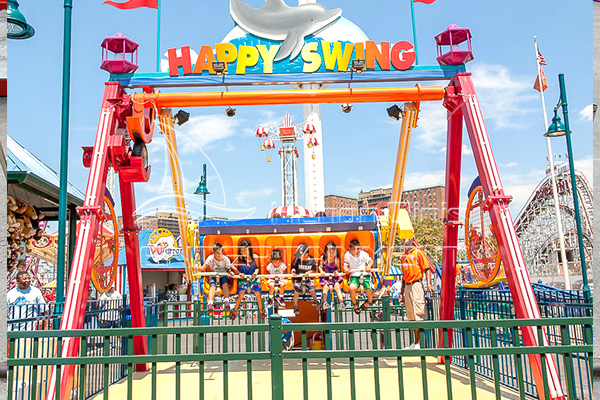 Swing pirate ship for sale
Pirate ship ride is an amusement park ride that swings back and forth around the horizontal axis. At the beginning, it swings slowly. Then the speed accelerates quickly. It is quite thrilling for players. Its appearance is an antique ship. On the pirate boat ride, players will feel like surfing on rough sea. The thrilling experience will force you to shout or scream. The pirate ship is also one of the representatives of extreme amusement rides.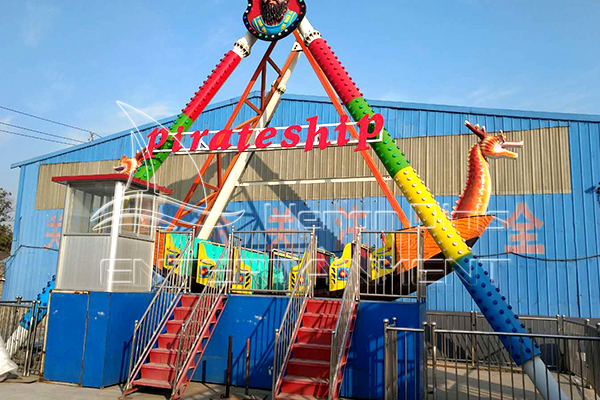 How much is the amusement park swing ride in Dinis?
The cost of amusement park swing ride depends on the ride you select. The kind, size, material and seat of swing funfair rides will all affect the price. In general, the swing rides that can hold more people will cost more money.
Compared to the agents, Dinis don't need to pay the agency fees. Thus, it can directly sell amusement swing rides at factory prices. The prices of swing rides in the company will be lower than those of other companies. If you want to know specific prices, contact us to get a free quota.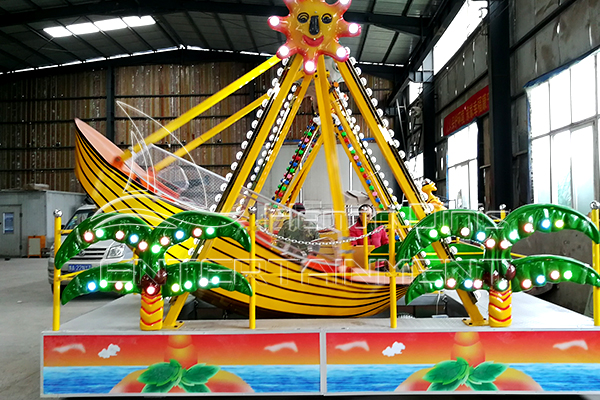 Features of amusement park swing rides for sale in Dinis
Beautiful appearance, bright lights, colorful painting and sweet music
Customized sizes and models
Fiberglass reinforced plastic and steel frames for materials
Electromagnetic painting technique and advanced technology
High safety
Low maintenance and long service life
Factory prices
Hot Sale Theme Park Swing Rides in Dinis Factory
Do you have interests in swing amusement rides? Do you want to buy amusement park swing rides? Please contact us. We promise to respond promptly.