Do You Know Antique Bumper Cars for Sale?
The amusement park bumper car ride is a very popular and essential entertainment equipment in amusement parks, theme parks, parks, playgrounds, family fun centers, carnivals, fairs, supermarkets and shopping malls. Its specific entertainment way could greatly help players to release pressure and enjoy great fun with their companions. The antique bumper cars for sale in the market are the classic type of dodgem car rides. This kind of dodgem rides is the most common and the most secure business to get returns. Thus, if you have intention to choose an entertainment park equipment for commercial use, the stainless steel bumpers for classic cars in Dinis will be the optimal choice for you.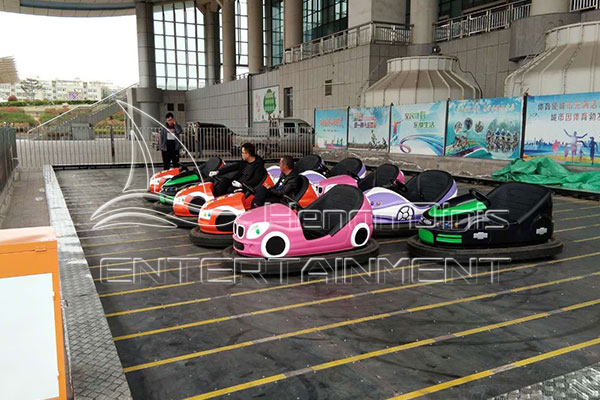 What are vintage bumper cars for amusement parks or theme parks?
You can also call antique bumper cars vintage or classic bumper car rides. The antique bumper cars are not old amusement bumper car rides. With old style and appearance, the vintage bumper cars can remain fashionable in a long time. Generally, the majority of people love the classic amusement park rides, such as carousel, ferris wheel, popular roller coaster, etc. The earliest vintage bumper cars appeared in the 1920s in the United States. With the long history, the vintage bumper cars for sale still dominate the market.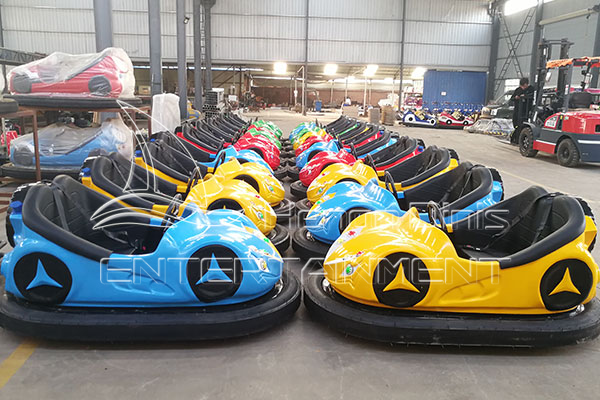 Where can you purchase an antique carnival dodgem car for sale with quality and high working performance?
If you have the intention to buy antique car bumpers rides, Dinis antique dodgem car ride is a good selection for you. Dinis Amusement Machinery Co., Ltd. is a professional manufacturer in producing, developing and selling various kinds of amusement park equipment. With more than 10 years' experience in the industry, Dinis has exported a great deal of amusement rides to the customers all over the world. In the product quality, the materials of antique bumper cars are high-quality fiberglass reinforced plastic materials. Thus, the products have low failure rate, so that the maintenance work can be less frequent. Besides, the painting of all glass steel products is the paint especially for automobiles. With the use of the advanced painting technology, the colors can be durable and uneasy to fade. The meticulous workmanship in Dinis plant has won the praise of the majority of customers.
What's more, as a self-marketing theme park ride manufacturer, Dinis has its own factory and development workshop. Without the middleman to pocket the difference, our company could manufacture and sell various kinds of street legal vintage bumper cars for sale with competitive prices and high reliability.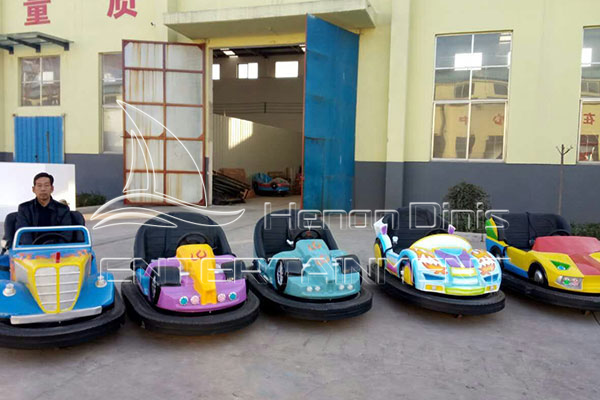 Classification of vintage bumper cars for sale in Dinis
As a classic family park equipment, the applicable crowd of antique bumper cars for sale is wide (from babies to adults). Not only kids, but also adults love the equipment. For the players at different ages, Dinis develops antique amusement park bumper car for sale rides for children especially.
Vintage kids bumper cars equipment for sale in Dinis
Dinis vintage child size bumper car ride is a newly developed product. In order to guarantee children's safety, the product surface is made of seamless FRP materials. The children's ride always has beautiful lanterns and exquisite design, as well as comfortable seats. Generally, the vintage kids bumper cars are mini rides. With electronic brake system, players could automatically release the foot to brake. To a certain extent, this kind of design is more reliable and secure. The colors of children vintage carnival bumper cars for sale can be red, yellow, green, etc. If you have any requirements for the appearance and design, we can also provide customized services.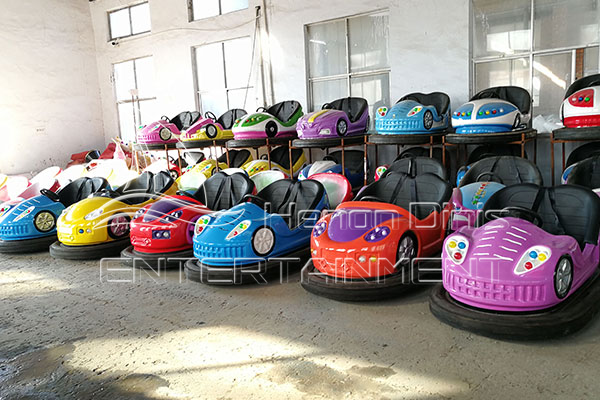 Antique car bumpers rides for adults in amusement parks, parks, carnivals and shopping malls
Vintage bumper cars dodgem rides for adults are big equipment compared with small rides. Adults always pursue the extreme excitement brought by the collision. Thus, Dinis develops racing dodgem car exciting rides, and other high speed old vintage bumper cars for sale. If your target is not only children in your theme parks, the vintage bumper car ride for adults is suitable for investment in shopping malls, parks, playgrounds and other public areas with high traffic concentration.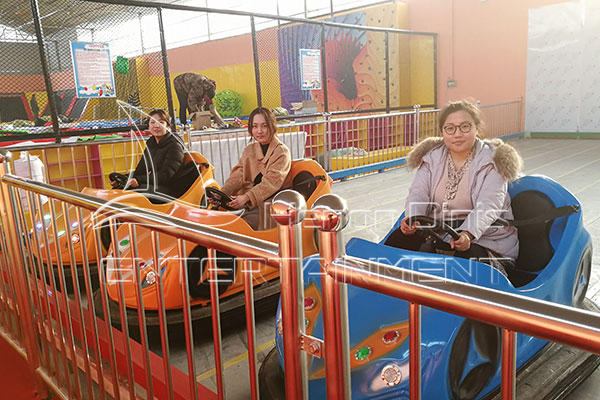 Popular types of vintage antique bumper cars dodgem for sale in Dinis company
In Dinis factory, there are vintage antique bumper cars dodgem for sale rides. According to the specific drive mode and power generation method, the antique amusement park bumper car rides contains two types, sky-net and ground-net dodgem car rides and fairground battery dodgem bumper cars.
Ceiling grid and floor net antique bumper cars in Dinis plant
The traditional ceiling bumper car rides have a pole to connect the ceiling. Then for the floor net antique bumper cars for sale, the rides just need a special floor. Thus, these two kinds of classic car bumpers rides both have certain restrictions. But due to the specific floor and ceiling requirements, the sky-net and ground-net classic bumper car equipment costs more. And the rides can't move. Thus, the ceiling and floor net rides are more suitable for the business owners with specific amusement ride business field.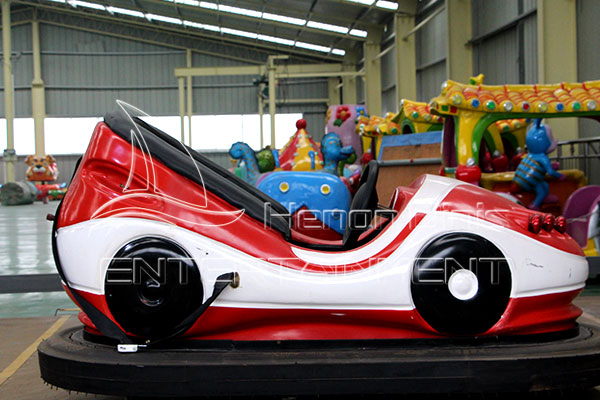 Classic battery-powered vintage bumper cars for sale in Dinis
The battery antique bumper car ride is a new kind of antique bumper cars in modern society. Different from the traditional sky-net and floor-net dodgems, the battery dodgem car is powered by battery. The equipment can be convenient and portable rides for carnivals and fairs. Innovatively, the battery dodgem bumper car vintage ride has the power-off protection device to prevent motor overheating. Without the additional fees for special floor or ceiling, the prices of battery carnival bumper cars are low. Thus, if you have tight budget, you can start your business from the battery bumper car rides.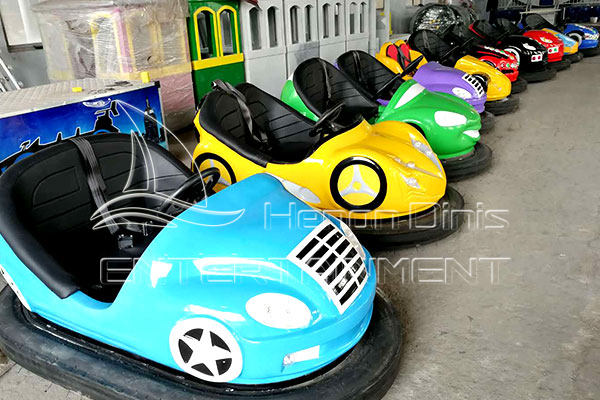 For the different types of vintage dodgem bumper car amusement carnival amusement park rides, there are models of antique bumper car rides in Dinis. If you have any specific requirements on the vintage bumper car products, we company can provide customized services in order to meet your demands.
What vintage amusement park bumper car parts can increase the dodgem car performance?
For different types of amusement antique bumper cars for sale, the structures of the rides are obviously different. For the sky-net vintage amusement bumper car equipment, the system contains several dodgem cars, enclosures, a special ceiling and floor. Then in terms of the ground power grid vintage amusement park bumper cars for sale, the system consists of several bumper cars, enclosures and a special floor. Then for the battery-operated vintage fairground bumper cars, there is no need for the floor.
Due to the special entertainment way, the collision of antique battery bumper cars will lead to the fun equipment wear. Even the high-strength vintage bumper car bodies for sale can't bear such wear. Thus, the owners always need to add some bumper car parts to replace the old ones, so as to guarantee the normal operation.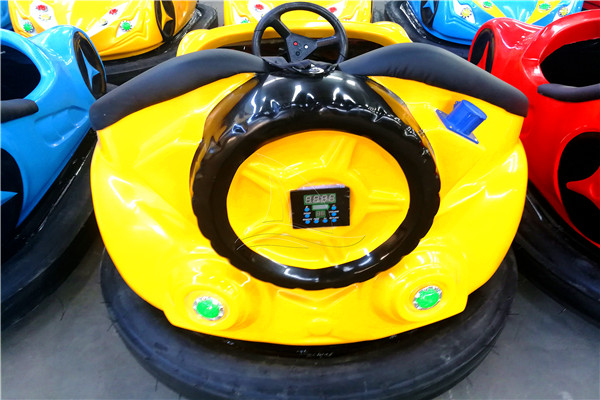 What are the standard configurations of stainless steel bumpers for classic cars?
Of course, for the street legal vintage bumper cars for sale with different power generation methods, the basic configurations are quite different. The above parts of vintage amusement park bumper car rides are the basic configurations of the rides. Besides, the remote control device that can control several dashing cars simultaneously. The equipment speed is slow and it can guarantee the safety of players. But if you have the requirement, we can add safety belt for you. Moreover, the dodgem car rides can be coin-operated mode equipment if you require. And for the battery number, design mode and other configurations, we can offer them in accordance with your demands.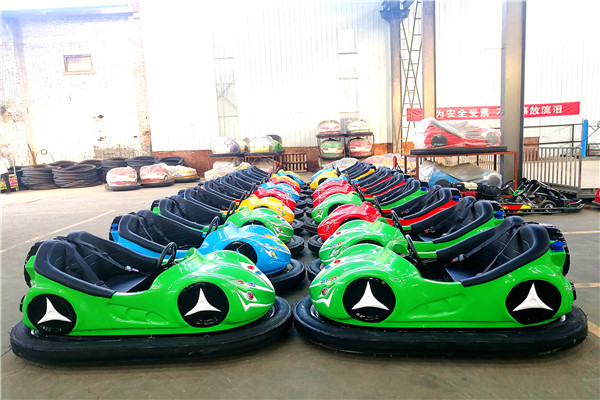 Recommendation on common application of vintage bumper cars for sale
The vintage antique bumper cars dodgem for sale is a good investment in the amusement equipment industry. Especially if you buy antique battery bumper car rides, you can easily start the business in almost all the places you want, such as carnivals, fairs, parks, squares, playgrounds and other flat grounds. Besides, the kid size antique dashing cars are also available in supermarkets, shopping malls and other indoor places with high consumer traffic.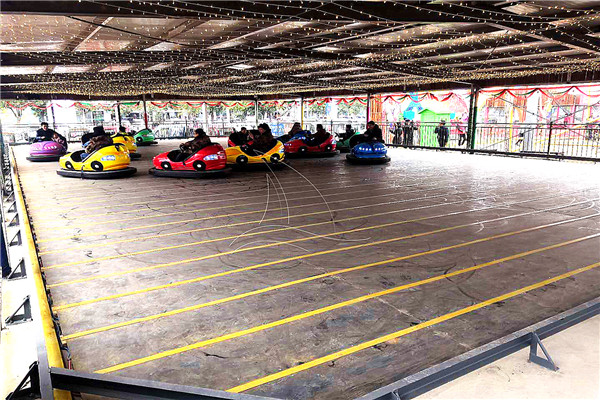 Do you want sensibly priced vintage bumper cars in Dinis?
As a leading company in the amusement park ride industry in China, Dinis has adhered to the "customer first" philosophy. Our company is willing to make more friends and establish long-term cooperative relationship with customers, thus making profits. Thus, Dinis has never blindly made exorbitant profits since its creation. We company sells all models of vintage amusement bumper car rides at sensible prices. In other words, compared with the same products made of the same materials from other manufacturers, the prices of dodgem car products manufactured in Dinis are reasonable through comprehensive considerations. For different vintage bumper cars for sale with different sizes and configurations, the prices are different. Any interest, contact us for free quote.
Do you want to own antique bumper cars for sale for your amusement parks? Do you have any questions for the equipment? Please feel free to contact us! We will contact you in 24 hours!