Where Shall You Start If You Want to Buy Mobile Amusement Rides?
Mobile amusement rides are also portable amusement rides and transportable amusement rides. The portable amusement rides are easy to dismount and install. Some of the mobile amusement rides have no need for dismounting. For example, you can directly fold and move the inflatable equipment after deflation. Currently, mobile amusement rides are very popular in carnivals, festival celebration and parties. Thus, another name of mobile amusement rides is mobile carnival rides.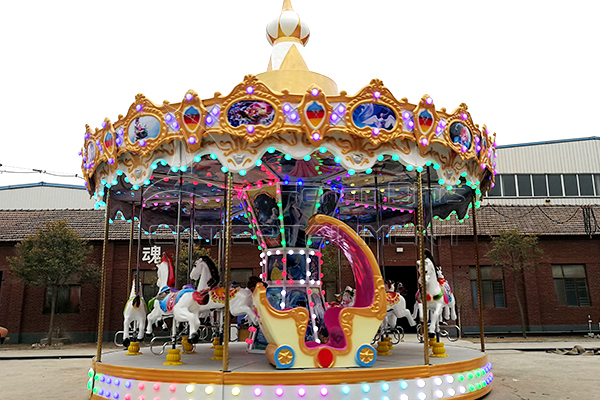 They are common in parks and shopping malls especially during festivals and carnivals. At that time, people compete to take these rides to enjoy the unique festival atmosphere. Thus, the demands for portable carnival rides are rising constantly. Those who perceive the great market potential are ready to buy portable carnival rides to make money.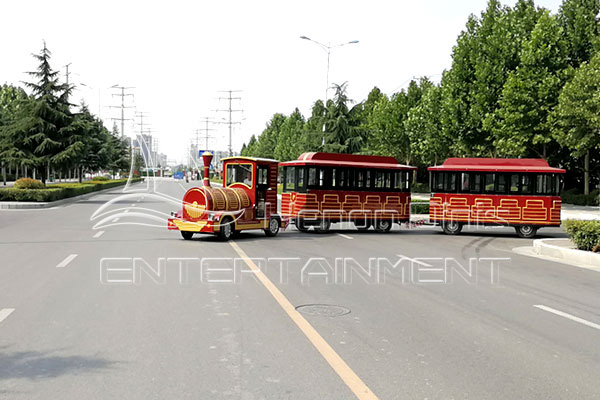 Where shall you start if you want to buy mobile amusement rides?
Know the target market and products for sale
The market is the baseline of all the investments. If the market of mobile amusement park rides is comfortable with the social conditions and customer demands, the market adapts to the present era. The next is to know the target market. When you truly know the target market- who they are, what they want and how to reach them, you will have a much easier time getting in front of their eyes. Besides, you shall have a more understanding of the portable amusement rides for sale. The following are some popular potable amusement park rides for sale.
Mobile trackless train for sale
Obviously, the trackless train are mobile amusement park rides. Not confined to fixed and narrow space, the trackless train rides can be drove to someplace far away. There are vintage train rides, Thomas amusement trackless train rides, etc. The mobile train rides can not only serve as an amusement ride, but also a means of transportation. Especially in carnivals and festivals, the visitors flow rate is large. Most people will choose trackless train as a tool for riding instead of walk.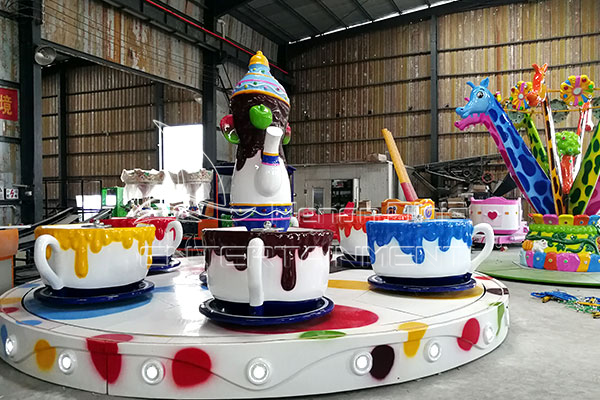 Portable tea cup rides for sale
Portable cup ride is a type of rotating amusement ride. It consists of a big turntable, small turntables and several cups for riders. When the equipment starts, the portable tea cup ride not only spins around the central axis, but also rotates around the center of small turntables. There are always 6-9 cups for riders and each cup can accommodate 4 passengers. Thus, it is an amusement ride, which is suitable for a family and friends.
Human gyroscope for sale
Human gyroscope is once used for the training of pilots and astronauts in the gym. Now, it is not only in amusement parks, but also in many science centers and museums. It is a electric simulator with a gyroscope. Riders on the ride will rotate 360 degrees at different speeds. It could bring them a special feeling of free rotation in a three-dimension space just like flying in the air. And you can clearly feel it entertaining and thrilling from its unique appearance.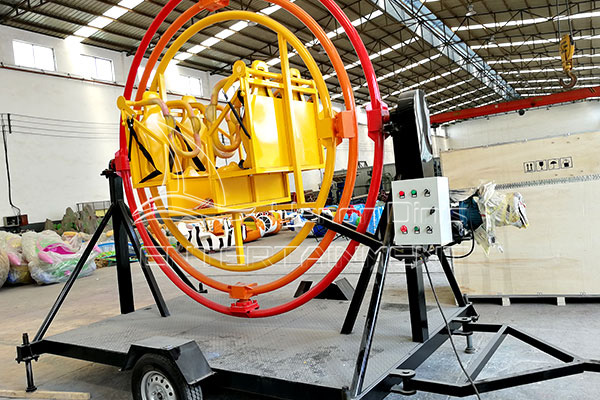 Portable pirate ship for sale
Pirate ship ride is a kind of thrill swing ride based on actual pirate ships. The equipment swings back and forth around a horizontal axis. Riders could fully enjoy the sense of weightlessness. Taking the pirate ship ride is just like riding on the waves of the sea, which is quite interesting and novel.
Portable flying car for sale
Flying car is a popular amusement ride. It will slide up and down and rotate 360 degrees on the track. Accompanied with flashing lights and exciting music, riders will feel like surfing on the ocean. The component are a track and a car. Although the flying car ride is not thrilling, it could make riders excited and energized.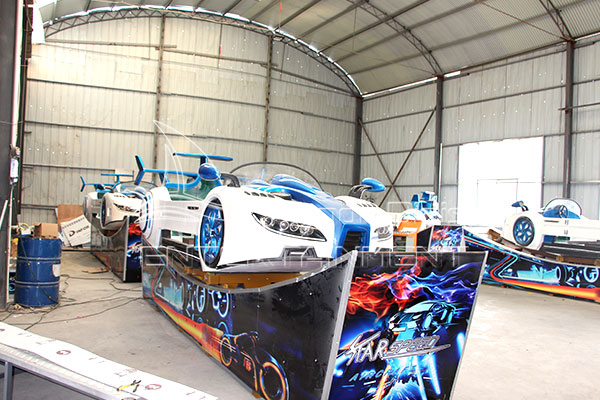 A variable-speed electric motor drives the mechanical bull ride. When people ride on the mechanical bull, it will rotate around, move up and down in order to throw rider overturned to the ground. It is a exciting and challenging entertainment ride. During the process, riders can exercise their courage and coordination ability.
Trampoline bungee for sale
Trampoline bungee is the most popular children playground amusement equipment. Riders can jump and roll arbitrarily without worrying about injury. It is very convenient and flexible for removal, dismount and installation.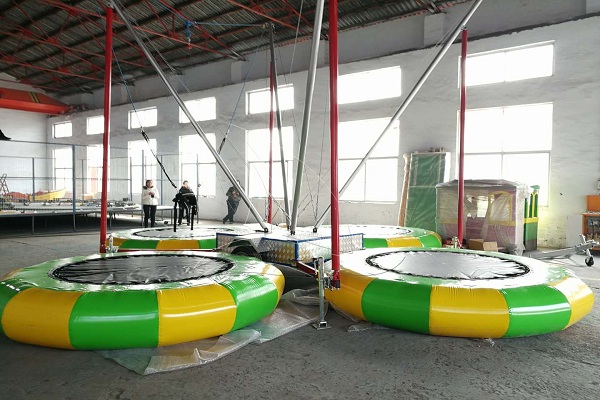 Portable park rides with trailers for sale
In the market, there are many portable amusement park rides with trailers, such as coffee tea cup rides, human gyroscope, pirate ship, etc. The trailer mounted amusement park rides are quite popular in the world, because they are quite portable and convenient for installation, transportation and movements. Thus, the trailer park rides for sale are suitable for carnivals and fairs. For many entertainment park rides, you don't need to dissemble and install them. Instead, you just need to pull over the rides with trailers anywhere you want to have a fun fair event.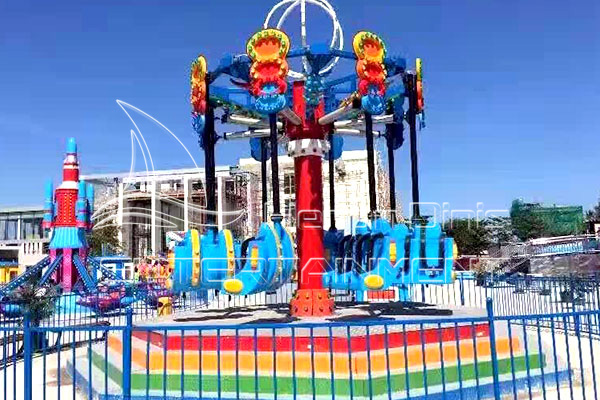 Find and compare different portable amusement park ride manufacturers
After selecting the appropriate mobile carnival rides, the next is to find different mobile amusement rides and make a contrast. You shall know and compare different mobile amusement ride manufacturers from the following aspects.
Customized services
The amusement rides belong to customized products. Although the appearance and size of amusement rides are quite similar, the specific amusement rides shall be in accordance with customer requirements and actual site situations.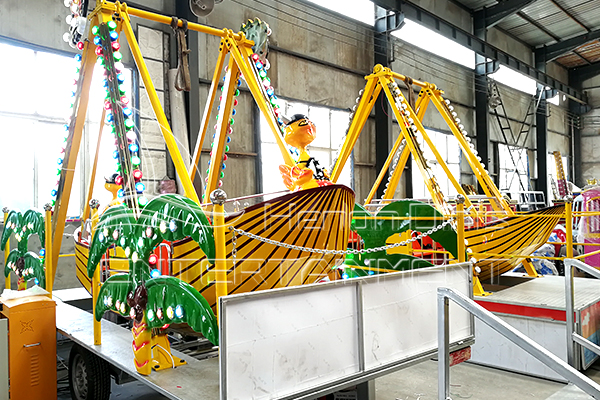 New models and appealing appearance
Under the drive of the trend, increasing number of people choose to purchase mobile amusement rides to obtain profits. If you are willing to gain a foothold and stand out in the business, the portable amusement rides selected shall be competitive. While the product functions are the same, appealing appearance and colorful design become the most important elements to attract people. In this regard, you shall select as new amusement rides as possible.
Easy disassembly and low failure rate
Since you choose a mobile amusement ride, you must focus on its easy disassembly feature. It is also the biggest advantage of portable amusement rides. If you buy portable amusement rides for carnivals and festivals, you must move the rides to different carnivals during different festivals. For the reason, the materials shall be durable and wearable. The low failure and durability are equivalent to profitability.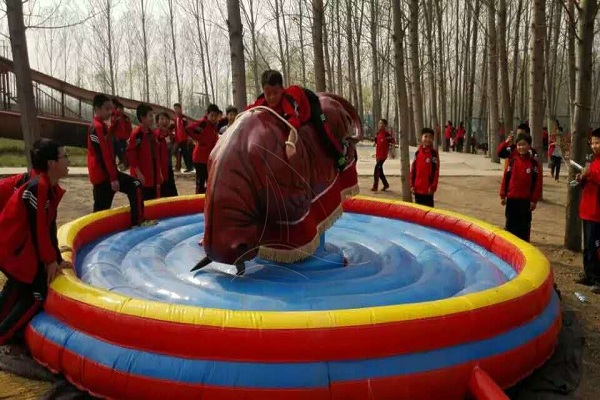 Reasonable prices
How much do portable amusement rides cost? This is an abstract question. The easiest and most feasible solution is to find several large portable amusement ride manufacturers and consult with them. After that, you may be clear about the price. Then, compare the objective conditions and prices of different amusement rides. Price is not the decisive element, but the cost-performance ratio is the issue that you must consider. In addition, not only the prices but also free products and services for purchase shall be elements that you consider. Sometimes, the amusement rides at reasonable prices come from sincere cooperation and friendly negotiation.
Select a reliable mobile amusement ride manufacturer
From the above four aspects, you can choose a professional and reliable portable amusement ride supplier. Next, you shall carry out a field investigation on the selected amusement rider builder. If it is still the one you want, you can proceed negotiation and finally make a deal.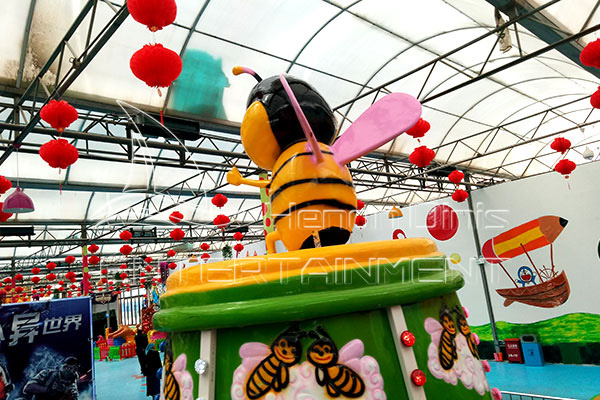 A recommended high-quality mobile amusement ride supplier
Dinis Amusement Equipment Machinery Co., Ltd. is a professional company in the design, production and sales of amusement rides. You can find all the above portable amusement rides in Dinis. Besides, Dinis also has portable inflatable bungee, portable car, flying chair ride, etc. In a word, choosing Dinis mobile theme park rides is choosing high-quality, reliable, durable and cheap portable rides.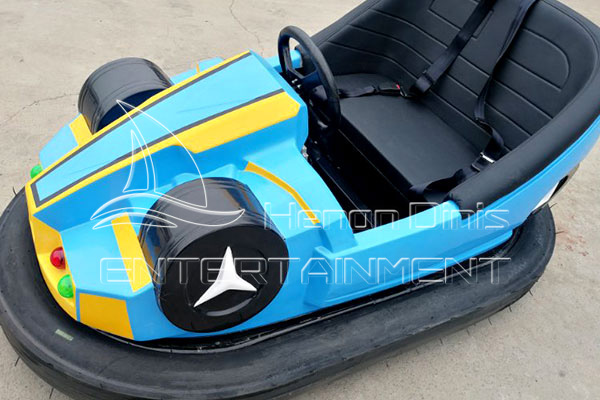 How much do portable amusement rides cost?
The mobile amusement park ride is a low-investment and high-profit project. Due to the size and materials, the portable amusement rides are at appealing prices in the market. The business doesn't need capital turnover, thus you can operate the business without pressure. If you would like to buy portable amusement rides for sale, Dinis is a reliable direct manufacturer of entertainment rides in China. Compared with the same mobile fair ride manufacturers, the prices of hot sale mobile children's amusement rides in Dinis are quite reasonable.
Do you want to give us a chance? We will give you a surprise in return. Welcome to inquiry us at any time. Waiting for you consulting.