Where to Buy Fairground Cup Amusement Rides?
There is another name of cup amusement rides, spinning cups. It is one of the classic family amusement equipment in amusement parks, playgrounds, carnivals, family fun fair center and other venues.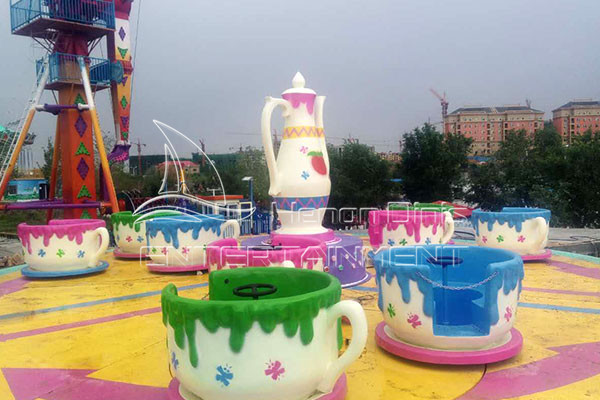 What is cup amusement ride?
Cup amusement ride consists of a big turntable, small turntables and several cup-shaped cabins. The cups cabins are on small turntables. For cup amusement rides, there are several types, including 6, 9 and 12 cups. Each cup can accommodate 4 passengers. Thus, cup amusement rides are suitable for a whole family. Besides, the rides have beautiful appearance and exquisite design. So they are quite interesting and attractive for adults and children. On the ride, players rotate with the big turntable. They can get a lot of fun from it.
Currently, cup amusement rides are popular in the world. You can easily find the cup rides in amusement parks, theme parks, fairgrounds, shopping malls, supermarkets, gardens and even backyards.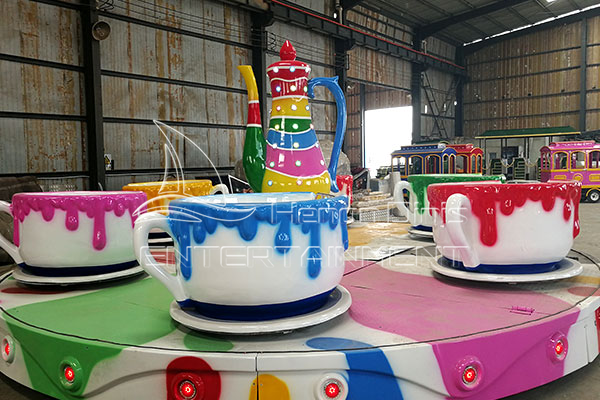 How does cup amusement ride work?
Typically, each set of six cups on cup amusement rides has a center bearing mounted underneath. The circular floor of the cup sits on a larger turntable like floor. And a motor drives the equipment. When the machine starts, it spins slowly. Then the speed accelerates as the operator applies more power. When the turntable spins the entire ride base, four passengers can use the steering wheel to control their cups. The cups can rotate 360 degrees independently. Therefore, players can fully enjoy the spinning, swirling and dizzy feelings on the ride.
What features do cup amusement rides have?
Beautiful appearance and innovative design
High-quality materials
Safety and great durability
Popularity and wide application
Low investment and great returns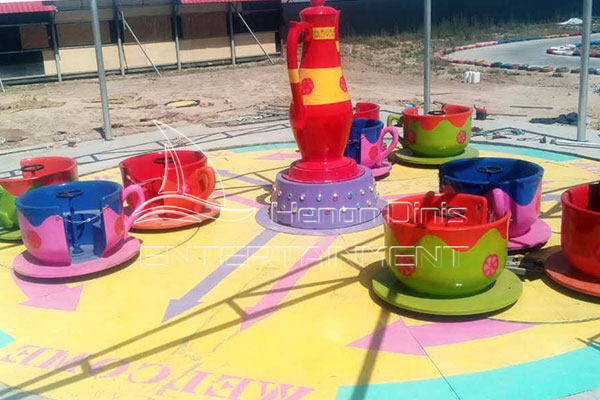 Why Dinis can be your reliable cup amusement rides supplier?
At present, cup amusement ride is an indispensable part of amusement equipment in theme parks, playgrounds, shopping malls and parks. It enjoys great reputation and popularity. As a small amusement machine, it costs not too much. But people are always willing to take the rides. Thus, it is a profitable investment. Many investors consider buying cup funfair rides. However, they have the same doubt, "where to buy cup amusement rides?".
Dinis Amusement Machinery Co., Ltd. is a professional cup amusement ride manufacturer. It specializes in the design, manufacture and sales of amusement park rides. Beside, it has the following advantages. Thus, Dinis is a good choice for the purchase of cup amusement park rides.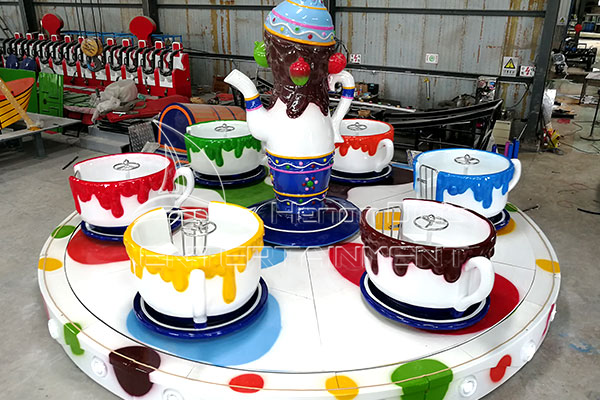 High-quality materials
In term of materials, Dinis adopts fiberglass reinforced plastics for cup rides and decoration parts. For the rest parts, the material is steel frame. As a result, these materials are high-quality and environmental. Thus, with the use of the materials, the cup ride products can be corrosion resistant and heat-insulated.
Painting technique
In painting room, baking paint is a painting technique that sprays several layers of paint on the substrate and finalizes the painting by baking in a high temperature. So the paintings can sustain the brightness and glossiness for a long period of time. Moreover, the beautiful appearance is crucial for kids.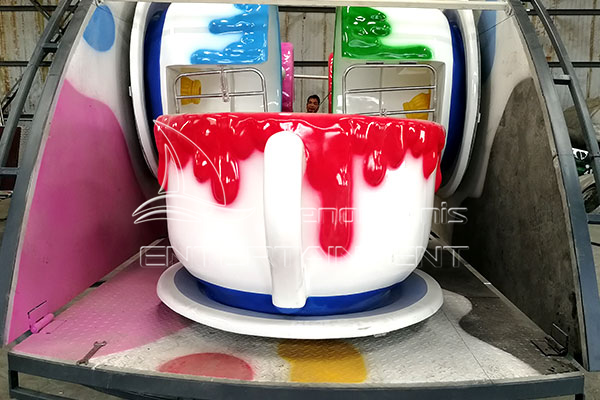 Experienced workers
Dinis adopts advanced technology to produce cup amusement rides. There are many professional designers and welders in Dinis. They can design and produce amusement equipment according to the drawings. Besides, the skillful craftsmanship can greatly guarantee the quality of cup funfair rides.
Customized models
Dinis can customize the models of cup amusement rides. In other words, you can propose your special requirements on the size and appearance of the rides. Dinis is willing to produce the amusement machines that meet your requirements.
Factory prices
With a factory, Dinis can build and sell cup funfair rides by itself. Thus, Dinis is not an agent. It will directly sell the cup rides at factory prices. In the case, you don't need to negotiate with the manufacturer repeatedly on the price. Therefore, Dinis has unrivaled price advantage.
One-stop services
Dinis can provide considerate services in the sale of funfair cup rides. If you buy rides from Dinis, it will provide one-stop services. It contains shipment, installation, maintenance, etc. Dinis always takes customers first. Thus, whenever you have needs, you can contact us. We will give you reply immediately.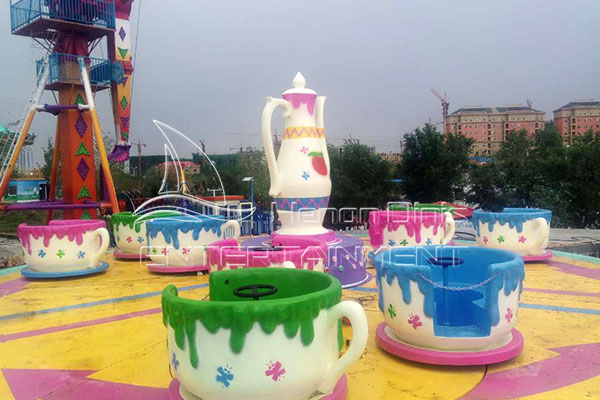 There are different kinds of funfair cup rides for sale in Dinis for you to choose.
Tea cup amusement ride for sale
Tea cup ride is a type of rotating amusement products in Dinis. The ride not only spins around the central axis, but also spins around the center of small turntable. Meanwhile, the small turntable rotates around the center of the big turntable. Therefore, players riding on the tea cup ride can enjoy the multiple composition of rotation. In addition, the appearance of tea cup rides is in different colors, which can draw people's attention.
Kids coffee cup ride for sale
Coffee cup amusement ride is a kind of playground equipment for children. The ride has a big turntable, 3 small turntables and 6 cabins. At the edge of the teacups, there is overflow coffee. It is quite interesting. Riders sitting in the coffee tea ride will rotate with the spinning rides and control the cups independently. Sometimes the speed is fast and sometimes slow. Consequently, passengers will feel like being in the "Alice in the Wonderland".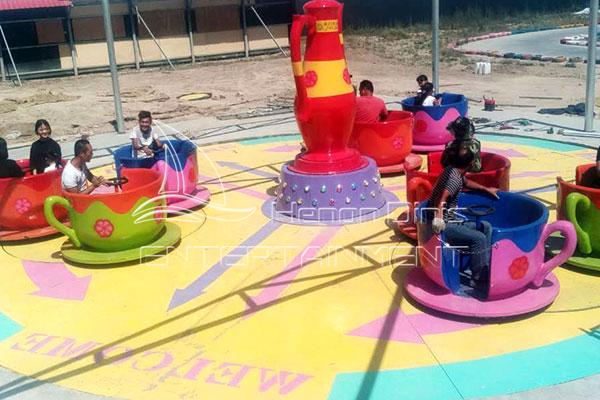 Bear cup amusement ride for sale
The origin of bear cup ride is the cartoon "Bonnie Bear". Similarly, the machine especially for kids has the images of bear. It is quite attractive for kids. There are three types of bear cup rides, including 6, 9 and 12 cups. Each cup can hold 4 people. Thus, you can choose the type of bear cup rides according to your demand. When the equipment starts, it will rotate with different speeds. Thus, riders can enjoy most fun and happiness.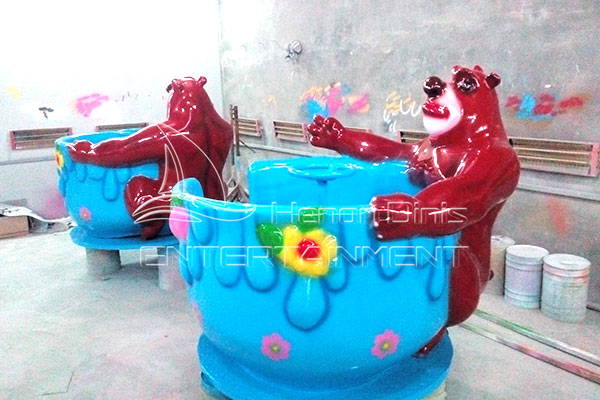 Flower cup fun ride for sale
Flower cup ride is one of rotating amusement cups rides. The operating principle is the same. The difference is its appearance. Certainly, the flower cup ride always has bright colors, exquisite designs and colorful lights. People on the ride will feel like visiting a real forest. Such romantic experience is very appealing for both adults and children.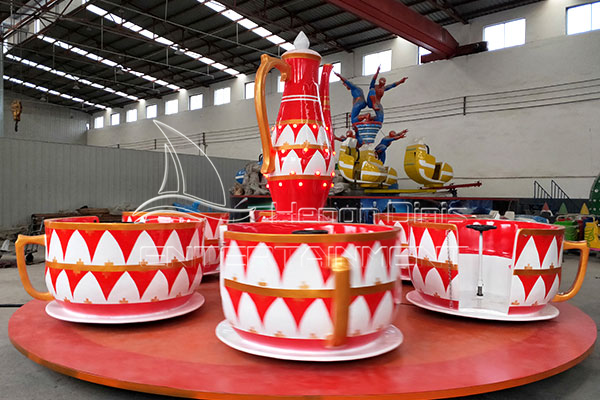 Amusement park teacup portables trailers rides for sale
The trailer tea cup ride amusement park ride is a new theme park ride. With a trailer, the transportation of spinning teacup mobile fairground ride is easy and the ride can be a mobile park ride. It has become increasingly popular during carnivals and festivals all over the world. Both adults and kids could fall in love with the equipment quickly. This unique teacup fairground ride also has novel model and bright colors. Our Dinis company can also customize the cup amusement rides according to customers' requirements. In addition, our company is also constantly making innovations in the amusement cup rides with trailers.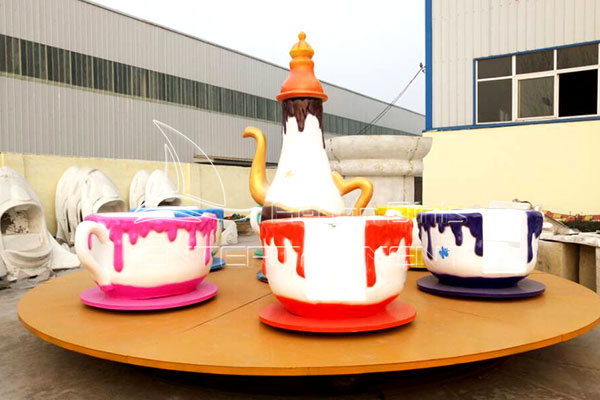 To sum up, Dinis Amusement Machinery Co., Ltd. is a reliable manufacturer. If the above cup amusement rides are not appropriate for you, we can customize the cups according to your playground venue.
If you have any question, please feel free to contact us. Then we will reply you quickly.