What You Shall Know for Purchasing A Backyard Amusement Ride?
The backyard rides refer to small or mini play equipment. The backyard has limited space, so the backyard can only hold mini fun rides. And in general, the backyard amusement rides are for kids to have fun at home. Therefore, the kiddie funfair park ride is suitable for backyard use. From above, small backyard play equipment for kids, such as mini carousel, inflatable rides, mini trains, are appropriate for your backyard.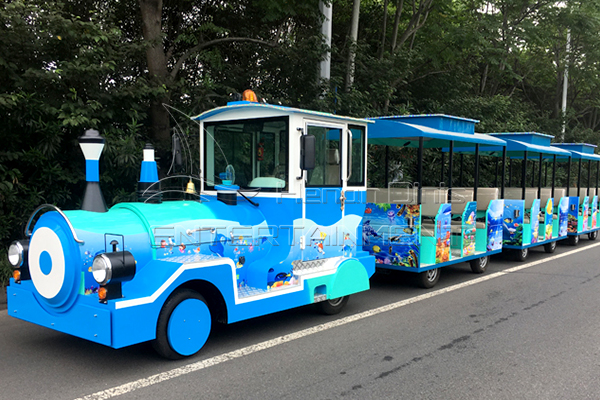 Types of backyard amusement park ride you can buy from Dinis
As a mature manufacturer of amusement park rides, Dinis has various backyard indoor playground rides for sale.
Backyard mini train for sale in Dinis
Trackless mini kids train ride is a kind of mini amusement train ride for backyard. Different from traditional trackless trains, it has exquisite design, simulator train sound, flashing lights and comfortable rides. Its gorgeous appearance could greatly attract children. On the ride, children will feel like riding on the actual train. Besides, Dinis has different models of mini train rides, such as vintage amusement train, Thomas ride train, etc.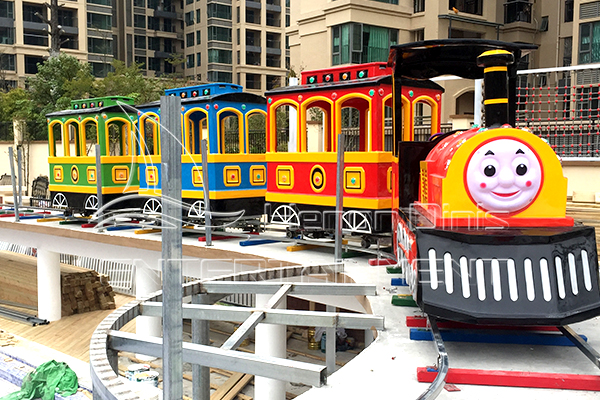 Merry go round for backyard in Dinis
Another name of merry go round is carousel. It is a classic rotating theme park ride consisting of a rotating circular platform with horse-shaped seats for riders. Almost everyone loves this ride. Among various kinds of carousel, the 6 seat kids merry go round and children's merry go round are appropriate for the backyard. The children's merry go round manufacturer in Dinis only has three seats, so it doesn't occupy much space. Besides, the forms of seats can not only be horses, but also be other animals, cars and flowers. Its interesting appearance, colorful LED lights and sweet music all are attractive points for children.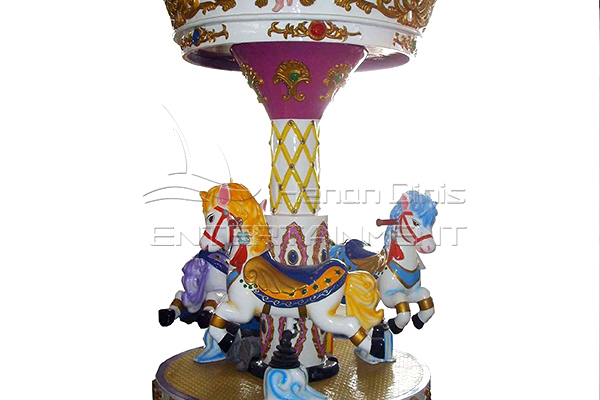 Backyard Merry Go Round for Sale
Cabin: 3 carriages
Capacity: 3 people/ passenger
Total Capacity: 6 passengers
Area Size: 1.5m*2m
Power: 800W
Voltage: 220V
Light: LED lights
Application: amusement parks, theme parks, shopping malls, resorts, parks and backyards
Trampoline bungee for sale in Dinis
Trampoline bungee is a kind of Dinis's popular backyard equipment. People also call it kids bungee. It is not only a fun equipment, but also a sports ride. Children can jump in the high altitude of 4 meters and make movements arbitrarily. It is so safe that parents have no need to worry about the children's safety. Instead, parents can pay attention to other things. For this reason, trampoline bungee installed at home is favorable for both children and parents.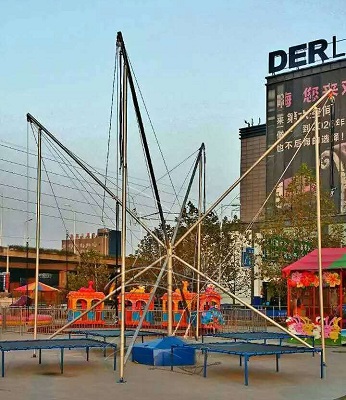 Backyard kids ferris wheel for sale
Kids ferris wheel is a funfair ride that allows parents to play with their kids at home. Similar to the giant wheel in shape, it is different in size. The kids ferris wheel has colorful lights and exquisite design. Children riding on the equipment can enjoy the scenery from a height.
Besides, Dinis also has inflatable series that are appropriate for the backyard. The inflatable mobile equipment are cheap, because it is easy to carry and install. They are also safe to children. Thus, children can freely enjoy themselves with the inflatable series rides.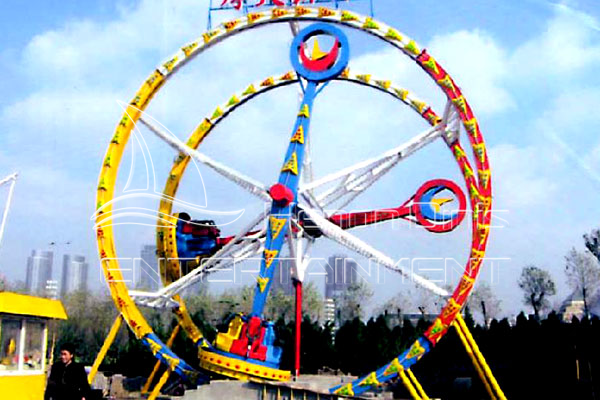 Advantages of backyard amusement rides in your backyard for kids
Owning a backyard funfair ride is beneficial for kids. The following are the advantages of small entertainment rides in your backyard.
Build up the body
Many children are fond of spinning play equipment, such as merry go round, etc. On these rides, the spinning process is favorable for kids' skeletal and neural activities. In addition, the backyard funfair rides can help children to increase their coordination ability and sense of balance. For example, bungee trampoline is a good way to build up the body of riders.
Promote intellectual development
The backyard funfair rides can also promote children's intellectual development. When kids ride a trackless train in the backyard, they shall know how to drive and how to keep away from walls and obstacles. During the process, kids can exercise their reaction sensitivity and practical competent.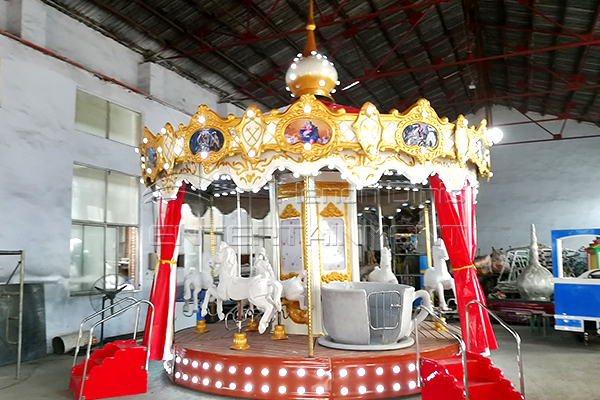 Make kids to relax and feel better
While children take the backyard amusement rides, they can enjoy unprecedented fun experience that toys can't bring. The kids fairground rides can relax them thoroughly. Besides, the rides can also assist children to expand their horizons and find the beauty of life.
Enhance the affection between parents and children
Currently, many parents are so busy at work that they don't have time to play with their kids outside. The backyard amusement rides could exactly solve the problem. Without going out, parents can play with their children at home. In this way, the amusement rides in backyard can enhance the communication between parents and children and narrow the distance between the two.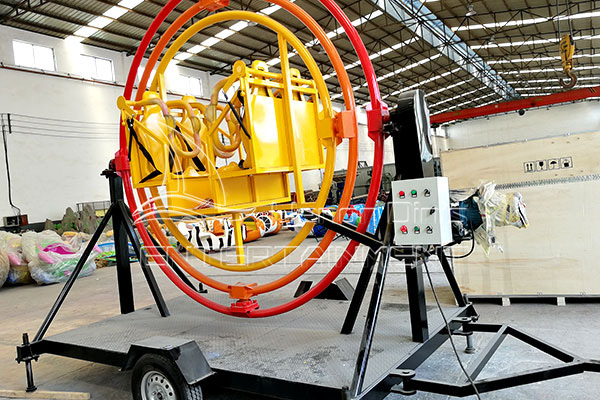 Where can you get backyard amusement rides?
Dinis Amusement Machinery Co., Ltd. is a professional amusement equipment manufacturer. It focuses on the research and development of funfair products. You can find that Dinis is a reliable entertainment equipment supplier from the following aspects.
High-quality materials
Dinis adopts fiber glass reinforced plastic and metal frames to produce the amusement ride products. In terms of painting, Dinis uses the paints especially for cars. Then, the factory bakes the paintings under constant temperature and dust-free environment. In this way, the paintings can be bright and lustrous for a long time.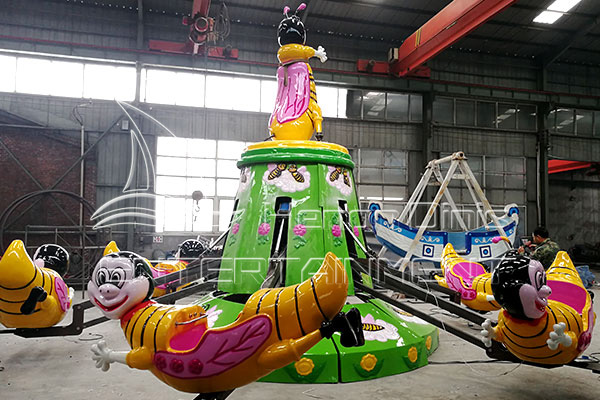 Skillful and experienced workers
Dinis has many responsible and skillful workers. They have rich experience, superb craftsmanship and strong practical ability. At work, they could treat work meticulously and solve problems at first hand.
Reasonable prices
Dinis is a self-manufacturing and self-marking amusement park ride builder. Compared to the agents, the commission doesn't exist. If you buy an amusement ride for your backyard from Dinis, you can buy the ride at factory prices. Moreover, Dinis can provide customized services as you required. Sometimes, there are additional services.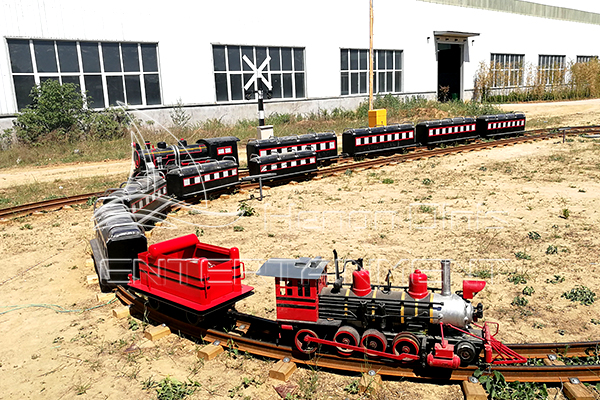 How much is it to buy a backyard amusement ride from Dinis
The prices of backyard funfair rides manufactured in Dinis are competitive. Then how much is it? Of course, the answer is uncertain. The price depends on the backyard amusement ride you select. The following elements could affect the price:
Size of backyard amusement rides
Generally speaking, the backyard amusement rides with small size are cheaper than those with large size.
Materials of backyard amusement rides
Materials determine the production costs. Dinis adopts the high-quality fiber glass material, so the prices will not be cheap. But compared to the backyard products that also use high-quality materials, the products produced by Dinis still have a price advantage.
Although the price is an important factor that affects the purchase, you shall not take it as the decisive element. After all, you get what you pay off. Thus, you shall take the quality and price into considerations simultaneously. In other words, the cost-performance ratio is the foremost.
Tips for purchasing an amusement ride for your backyard
Moreover, there are still many issues you shall consider for purchasing a funfair ride for your backyard.
Consider the size of your backyard. If the backyard is small, you shall select as mini fairground equipment as possible.
Think about the ages of kids that use the rides.
Think about how many children will use these rides? How many seats of backyard funfair rides you need?
Is the ground in your backyard plat or with grass?
Be clear about the budget and make selections within the budget.
To sum up, backyard amusement park rides can bring children unprecedented fun experience. Are you looking for backyard fun rides? Please feel free to contact us. We will reply you as soon as possible.